Dodge road closures, avoid burn scars, and find views unobscured by smoke using two new Canada wildfire overlays in Gaia GPS. Using official government data, we've launched two big updates to bring you up-to-date information about both currently burning and historical wildfires across Canada.
About the Canada Historical Wildfires Overlay
Anytime you're planning an adventure, it helps to have all possible insight into the terrain ahead. Many maps show vegetation cover, but they often neglect to mention burn zones. Now, you can view areas affected by fire in past years with the Canada Historical Wildfires layer. The layer color-codes burned areas with a red color gradient. Brighter-colored areas indicate more recent burns, while darker shading indicates burns that occurred in the more distant past.

All data for the Canada Historical Wildfires layer is sourced from the Canadian Forest Service.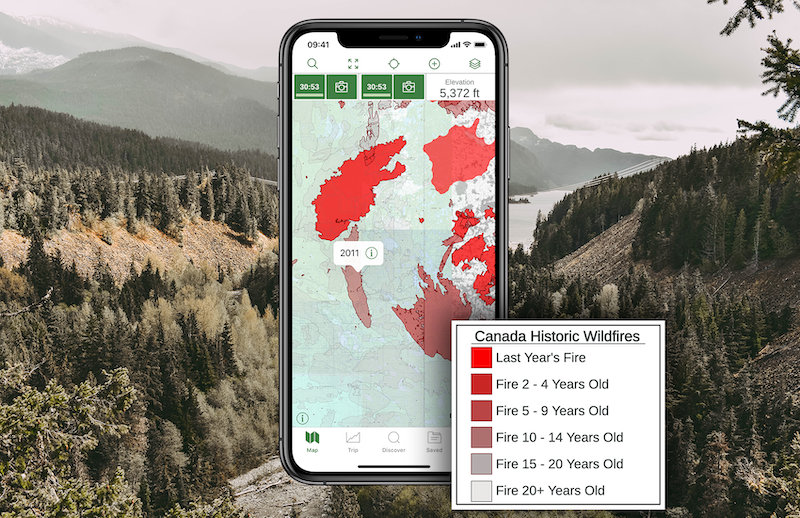 About the Current Wildfires Overlay
We've also added full Canada coverage to the Current Wildfires layer. The overlay previously contained only active U.S. fires. Bright red shading indicates actively burning wildfires. Use it to predict park and road closures as well as smoke pollution, which can diminish air quality, damage lungs, and conceal both views and landmarks essential to route-finding.
The Current Wildfires overlay derives its data from a variety of official government sources. It's updated daily as new information is made available by Natural Resources Canada (NRCan), the Province of British Columbia, Alberta Wildfire, and the Government of Saskatchewan.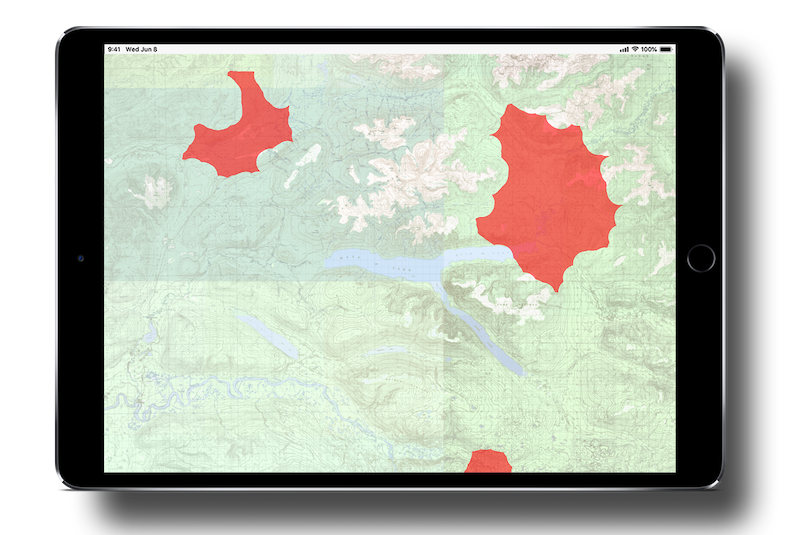 How to Use the Canada Wildfire Overlays
Both wildfire overlays are available to all Gaia GPS users with a Premium Membership.
Look for the Canada Historical Wildfires overlay either in the Feature/Weather Overlays section or in the Canada section of the map manager. It's listed as "Wildfires (Canada, Historical)".

You'll find the Current Wildfires layer listed as "Wildfires (Current)" in the Feature/Weather Overlays section, as well. Simply tap the green plus-sign next to the overlay to add it to your map.

On iOS devices, you can see the year and name of the fire—in addition to the number of hectares burned—by tapping on any shaded area.