Whether you're planning a backpacking trip or hitting the road on four wheels, there are hundreds of ways you can use Gaia GPS to plan and navigate. With Gaia GPS you can find your way without cell service, create routes, access and download hundreds of maps, and so much more. No matter how you use Gaia GPS, these little-known tricks and tips will make your adventures smoother and safer.
Read on to learn about customizing Gaia GPS to display your most important trip stats, and how to make your location marker pop. You'll also learn how to capture memories along your route, trim your tracks when you forget to stop recording, and declutter your map for seamless planning and navigation.
1. Customize Your Trip Stats Bar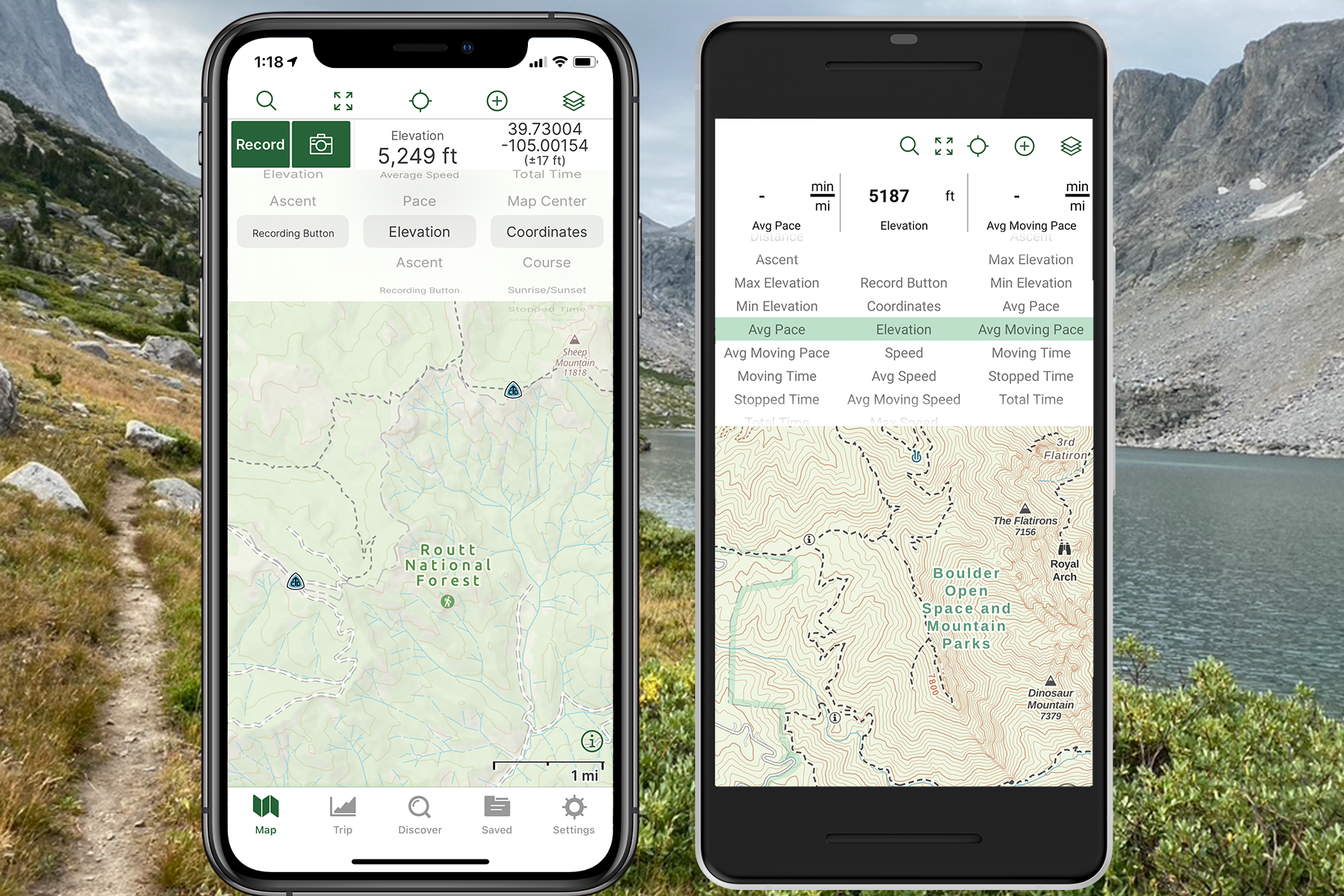 See the information that matters to you most by customizing the Gaia GPS stats bar. Located at the top of your map screen, the stats bar shows important details about your trip like distance, elevation gain, pace, total time, and moving speed. Select the top three stats most relevant to your adventure to quickly see how far you've traveled, how fast you've hiked, or what elevation you've reached with a quick glance.

To change up the stats displayed above your map, tap (long tap on Android) your current stats and choose from a list of trip details that you'd like to view. Headed on a trail run? Display "pace", "moving time", and "ascent" to track your minutes per mile, time running, and elevation gain. If you're on a time crunch, set your stats to "total time", "distance" and "ascent" to see how long you've been out and how far you've climbed and traveled.

Stat display options include elevation gain, current elevation, distance, moving speed, average speed, and pace. Aside from key trip stats, you can also pin details like sunrise/sunset time and GPS coordinates to the top of your stats bar. Easily snap a photo or pause your track by selecting the "record button" as one of your displays.

You can customize your stats bar in the Android and iOS Gaia GPS app.
2. Make Your Location Marker Pop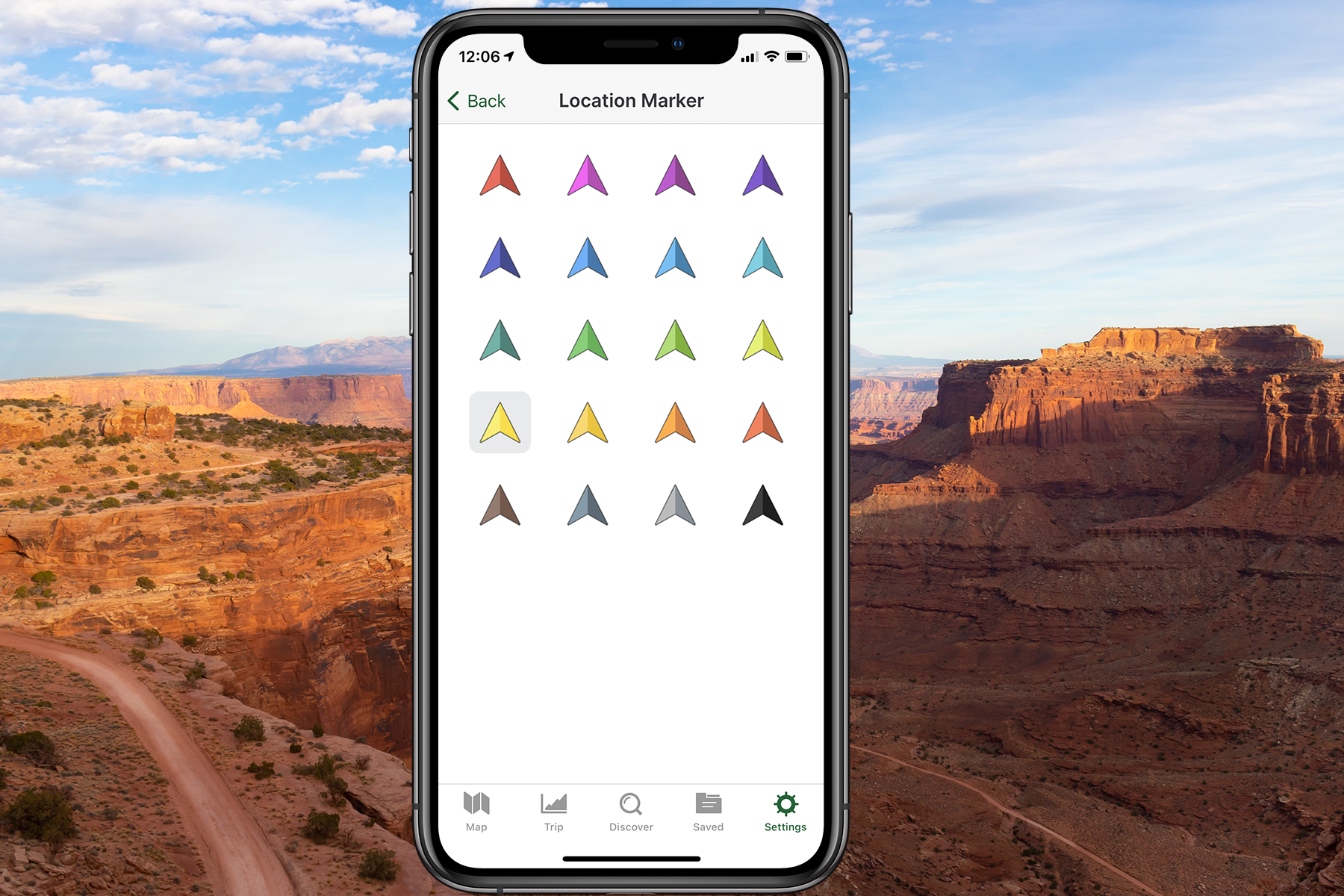 One of the best features of Gaia GPS is that you can always pinpoint your location on the map — even when you're away from cell phone service. Simply tap the locator button to center your location marker on the map. You can make your location marker pop even more by customizing the marker color.

Changing your location marker color makes it easier to see where you are even when the sun is shining bright or you're navigating at night in dark mode. Browse 20 different color options and pick the best one for your adventure.

Location marker color options are available in iOS and Android. To change your location marker on iOS, visit settings > Map Controls > Location Marker and choose the color you wish to add. To change your location marker in Android, visit settings > Location Marker and select the color you'd like.
3. Drop Photos Along Your Route to Mark Memories and Landmarks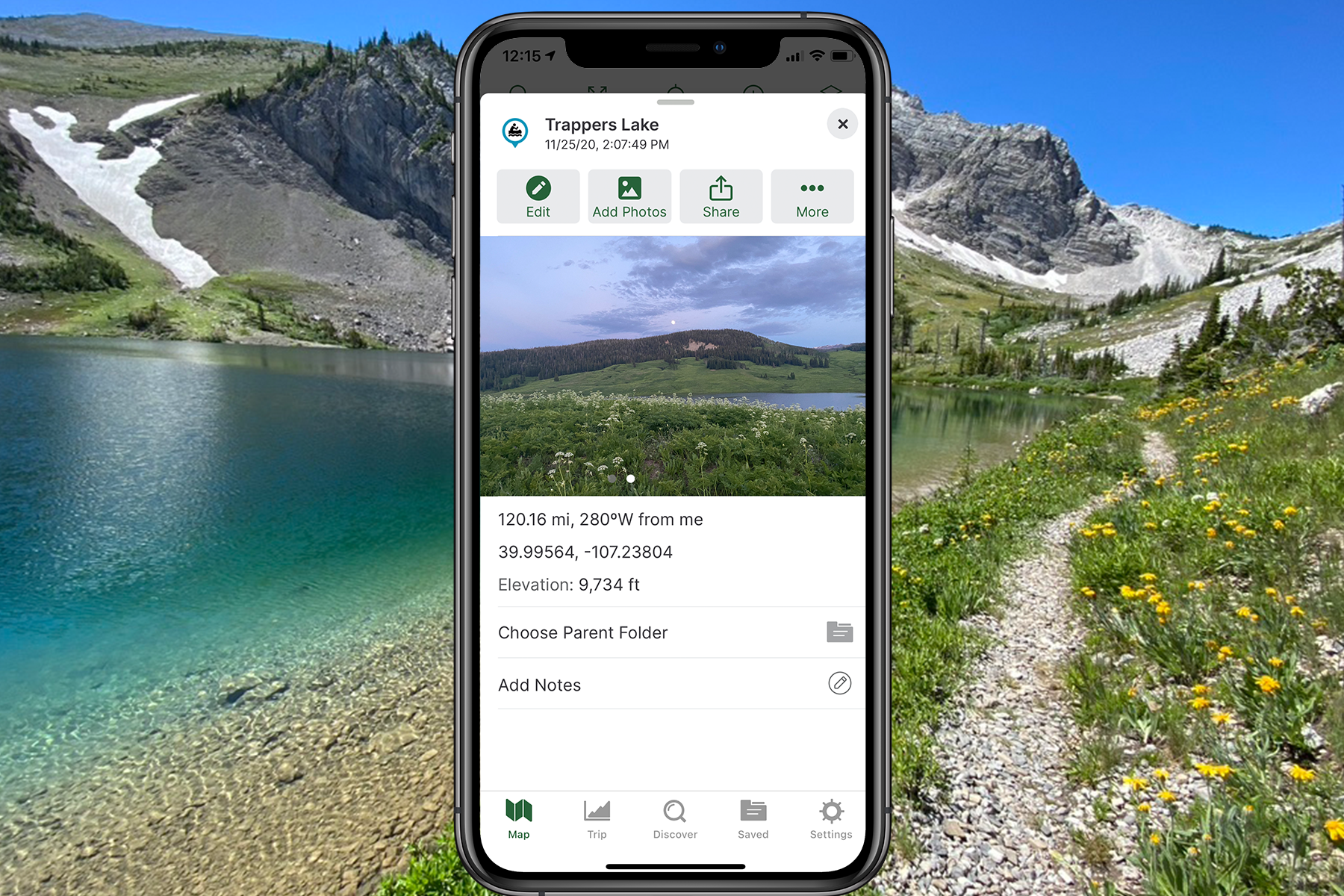 Easily document key points along your journey by saving a photo and waypoint with one tap. We all have places in the backcountry we want to mark and remember like our favorite campsites, a backcountry ski route, an intriguing backroad, or that special view from a mountain top. Use Gaia GPS to drop photos anywhere on the map.

You can easily save all of your favorite places by snapping a picture in the Gaia GPS app. As soon as you capture your image, Gaia GPS will drop a waypoint at your current location on the map and save both to your library.

In your Android or iOS device open up the app and tap the "+" button and "Take Picture" to snap your photo. Then you can name your waypoint, change the waypoint icon and leave notes to remember why you saved it. You can even do this while recording a track. Another way to capture an image is to set your stats bar to "record button" to see a record button and camera icon displayed on your home screen. Just tap the camera button to take a photo.
4. Drive Away Before Stopping Your Track? Crop Your Track!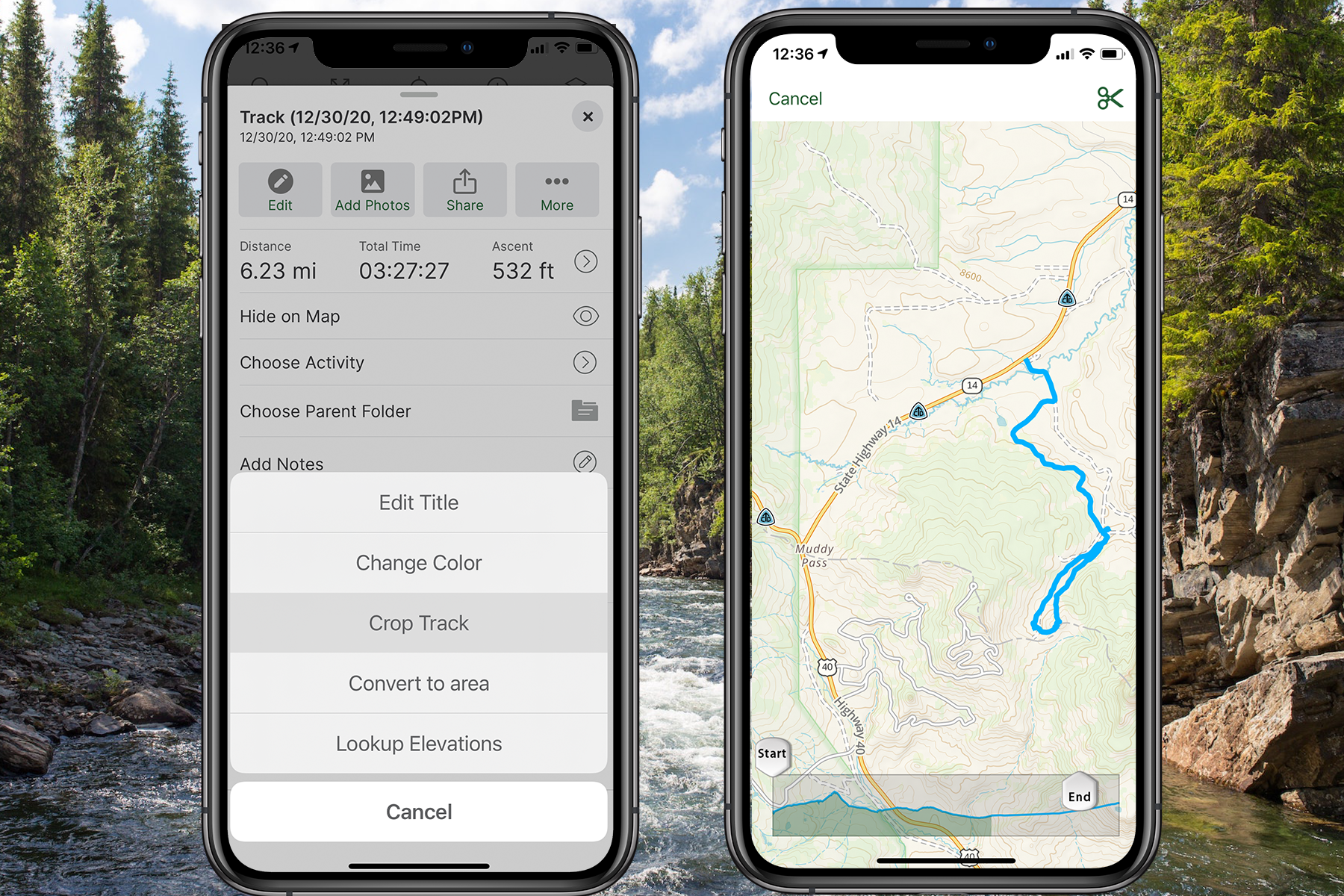 It's happened to the best of us — you finish a long hike, kick off your boots, then hop in the car to head home, only to realize you forgot to stop recording your track. You can easily trim your track to remove the unwanted miles on the pavement with this tool.

Edit any recorded track by tapping the track on your screen. Select the edit icon > "crop track," then drag the "end tab" to trim the track up until the point you wish to end your recorded track. Track cropping is available in Gaia GPS for iOS and Android devices.
5. Declutter Your Map By Hiding Saved Items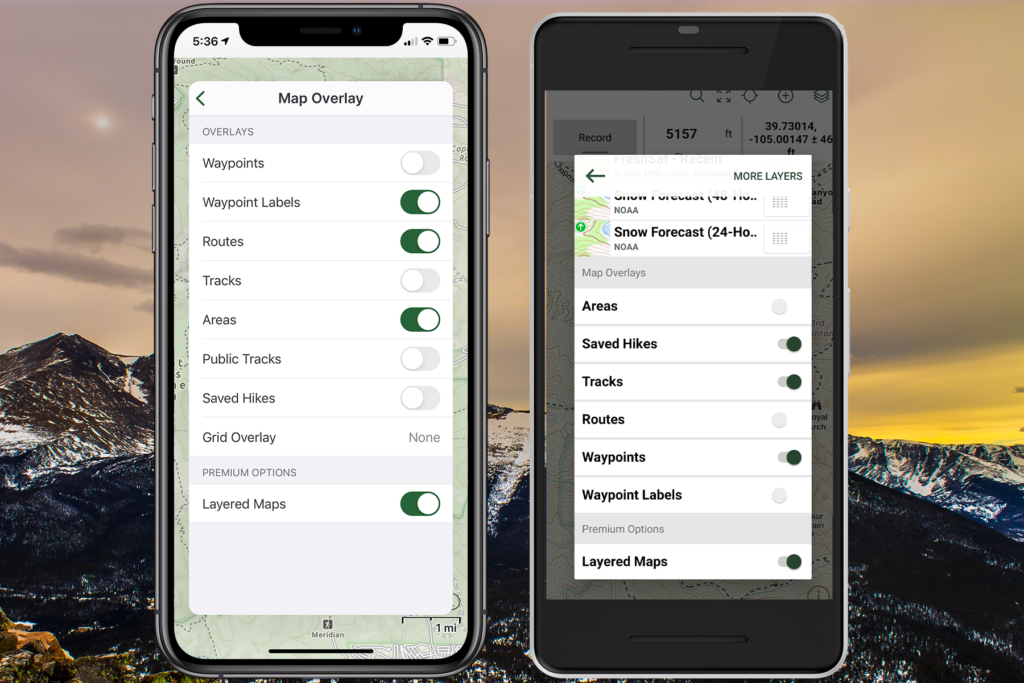 Too many waypoints, routes, and tracks cluttering your map? Clean up your map by hiding saved items. If you're looking to scout a new route or explore a national park map and don't want icons or a mess of routes and tracks getting in your way, try selecting which items you want to see and which items you want to hide while viewing your map.

In iOS, tap the layers icon > "Map Overlay" then select or deselect the items you would like to see or hide on the map. Choose from waypoints, waypoint labels, routes, tracks, areas, public tracks, and saved hikes. In Android, tap the layers icon and scroll all the way to the bottom to toggle on/off your areas, saved hikes, tracks, routes, waypoints, and waypoint labels.