Never miss a turn on the trail again. Turn-by-turn directions are now available in both iOS and Android. Enjoy the same type of step-by-step navigation you're accustomed to while driving, now while hiking, running, or biking deep off the grid.
Follow turn-by-turn directions for any saved route in the app, regardless of whether you have cell service. Plus, no more guessing how much longer the climb will drag on. In iOS, see your route's elevation profile and where you are along it. Read on to learn about turn-by-turn directions and how to use them on your next hike, ride, or offroad adventure.
Stay on Track with Turn-by-Turn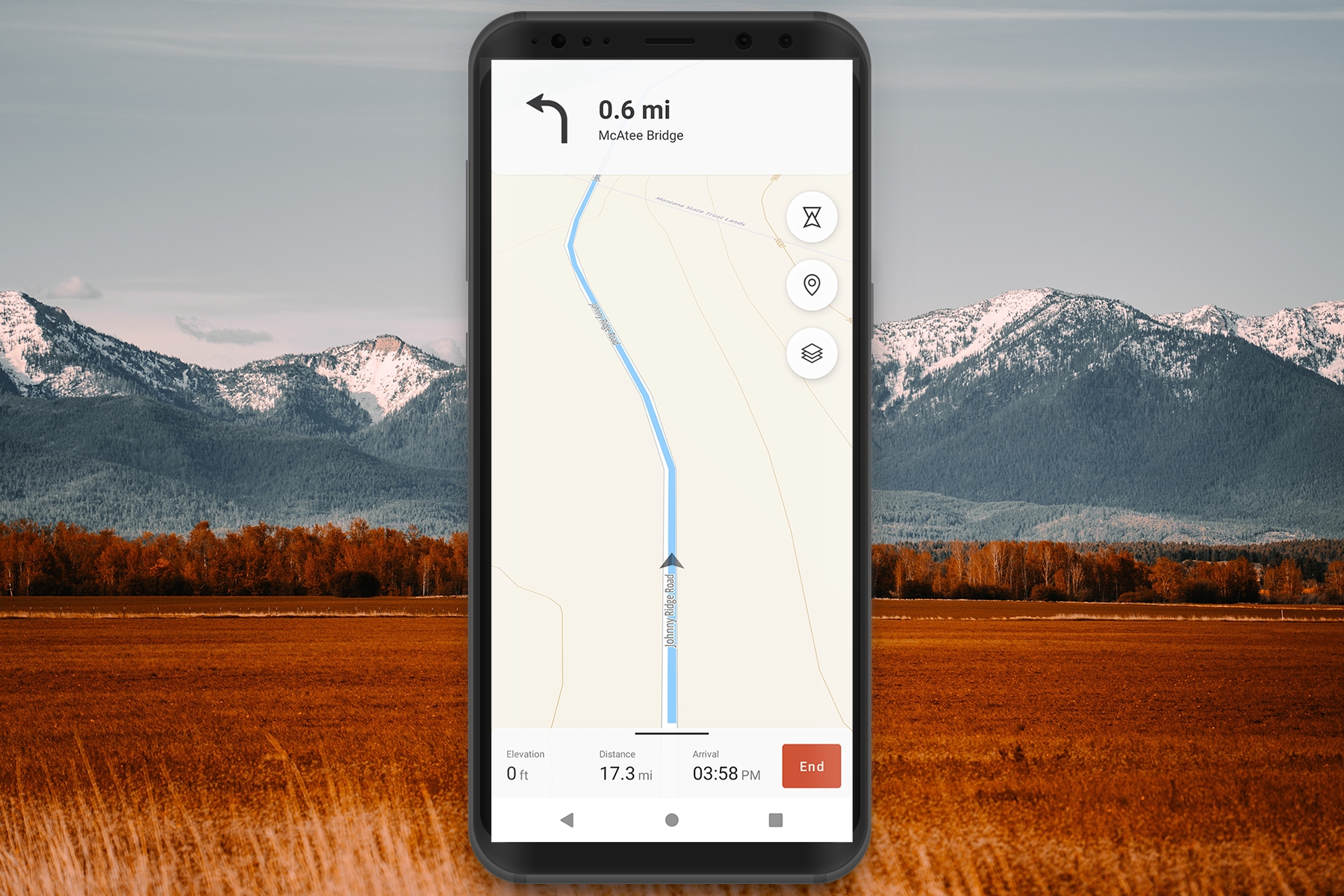 Turn-by-turn gives you a visual, on-screen guide of where to head next. It also tells you how far to the next turn, how much of your route you've covered, total trip distance, and elevation gain and lost. Follow your route with turn-by-turn directions in the Gaia GPS app and with voice direction.
Whether you're hiking, biking, or offroading, you can now follow your route with turn-by-turn directions. Once you start turn-by-turn, a compass arrow on top of the screen will show you which direction to head towards. You will also see the distance until your next turn. Click that top bar to get more details, including how much of the route you've covered, total distance travelled, and estimated arrival time.
If you're hiking with poles or biking a technical trail and don't want to look at your phone for directions, turn on voice command to guide you to your destination.
Turn-by-turn works even when you're out of cell range or operating in airplane mode to conserve phone battery. If you're stopping for lunch and want the pause the directions, no problem. Just tap "End" at the top of the screen. From there, you can hit "pause." Resume directions whenever you like.
Turn-by-turn directions work for routes saved to your phone. However, turn-by-turn may not work for some saved routes, namely those that do not snap to the trail and in places where the route data remains unavailable. In these cases, you will be guided in a straight line to your destination.
See Where you Stand with the Elevation Profile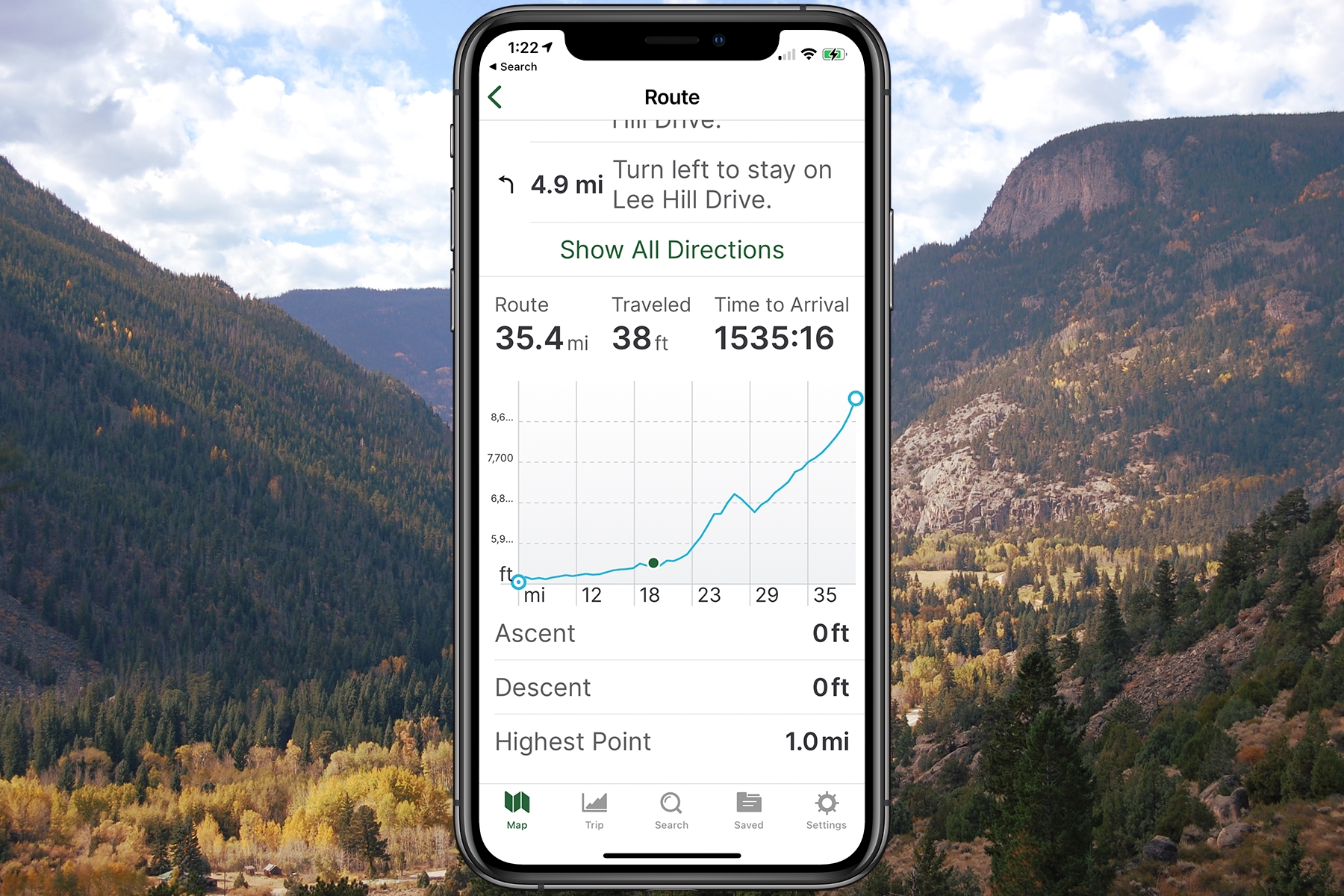 Wondering how far to go until the climb ends? If you're in iOS, just tap the turn-by-turn banner at the top of the screen to see exactly where you are along the elevation profile of the route. You can also see how many feet of ascent and descent you've covered, and how far until the high point.
How to Use Turn-by-Turn Directions
Turn-by-turn routes are available for all modes of transportation, from hiking to biking to offroading. Here's how to get turn-by-turn directions:
Map out the route you want to follow. Make sure you use the snap-to-trail route planning function in the app or on the web so that you're route follows the contours of the trail. Alternatively, choose from any route you've already saved on the web or in the app.
Download the map if you want to navigate without cell service.
When you're ready to start your activity, tap on the route. Click the "More" button. Select "Guide Me." This will pull up turn-by-turn directions.
In iOS, "Guide Me" will start recording your track automatically. In Android, you have the option of recording your track.
See more details like elevation profile, waypoints, and route stats by tapping the turn-by-turn banner at the top of the screen. This details page also includes the route elevation profile and where you are along it.
Once you're done, simply tap "End" and then press the next "end."