This week, we took an on-the-ground look through the eyes of search and rescue (SAR) personnel at how the COVID-19 pandemic is affecting some popular outdoor destinations. We spoke with first responder groups in the Colorado Rockies, Lake Tahoe Basin, and Joshua Tree National Park.

There have been a variety of state, local, and park/forest-level restrictions that have impacted how people get out there, but people have still sought the wild as a refuge from quarantine. SAR personnel we spoke to said people need a way to get outside, but a common theme we heard was urging people to stay closer to home and be safer. Because of the pandemic, rescue is complicated and outcomes can be worse due to the over-taxed medical and other facilities of the country.
Joshua Tree National Park: Now Closed
Just a three-hour drive from the greater Los Angeles area, Joshua Tree National Park is one of California's most accessible outdoor playgrounds. When California instituted its stay-at-home order on March 19, the park and its tiny gateway towns instantly became an escape for city residents looking for fresh air and room to roam.

But the increasing crowds caused concerns about the spread of Coronavirus and Joshua Tree quickly responded by closing its entrance gates on March 21, while still allowing non-motorized access inside the park's boundaries. The partial closure didn't deter visitors, who continued hiking and biking on park roads and trails.

John Lauretig, Executive Director of Friends of Joshua Tree, the non-profit funding partner to the Joshua Tree National Park Search and Rescue Unit, said the limited access was causing a pile-up of cars — and people — at the park's entrance gates.
Hundreds of vehicles parked along the road along the West entrance to Joshua Tree National Park. Video provided by John Lauretig, executive director of the Friends of Joshua Tree, the main funding partner and volunteer source for Joshua Tree National Park Search and Rescue team.
Springtime visitors to the park have kept Lauretig's team on its toes. In March alone, Joshua Tree Search and Rescue, along with park service rangers and San Bernardino County medics, responded to four separate climbing rescues: one that required a helicopter transport and three others that resulted in ambulance rides to the local hospital.
On April 1, Joshua Tree National Park officially shut down all public access, which will hopefully quiet search and rescue calls for Lauretig's crew.

"This is definitely not the time to be doing risky things and end up in the emergency room with a broken leg, using up valuable emergency medical resources," Lauretig said.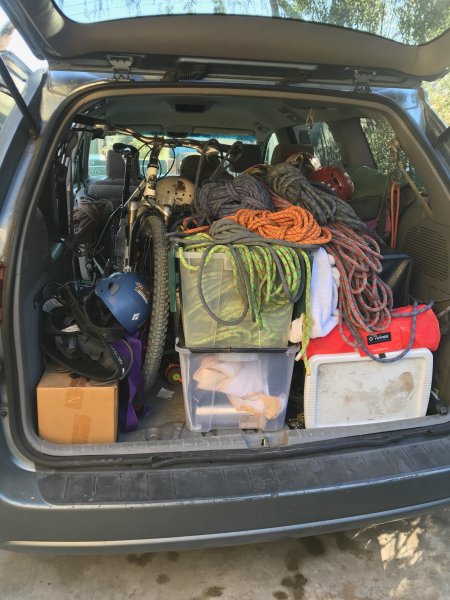 With the park completely shut down, Lauretig said he hopes visitor traffic in the park's gateway towns of Twentynine Palms, Yucca Valley, and Joshua Tree dissipates. And so far it has. Lauretig said the days following the park's total closure were quiet.
"We really want people to just stay at home now because we don't want our small town to be affected by COVID-19," Lauretig said, adding concern that an increased visitor population would strain local medical resources.
Lauretig said he understands the need to get outside but urges people to stick close to home, pick the less popular paths, and go outside at the least popular times of the day.

"Try getting outside in the hours right after dawn and just before dusk when there are less people out," Lauretig said.
Colorado – Backcountry Skiers Out in Force
A similar situation has unfolded in Colorado, where skiers and snowboarders have been pouring into the state's mountain zones ever since Colorado's governor ordered all ski resorts to stop lift service on March 15.

Summit County's high-elevation peaks, including several of Colorado's most famous 14ers, are easy access to Denver's population at only an hour or so drive from downtown. Consequently, trailheads in the area are packed and those crowds are keeping the Summit County Rescue Group, the area's local search and rescue volunteer organization, at the ready.

Charles Pitman, Mission Coordinator of the Summit County Rescue Group in Colorado said his crew conducted an unofficial survey in late March at one of the busiest trailheads in the county — Quandary Peak. He discovered that half the cars parked at the trailhead were local, from Summit County, and the other half were from the front range, more than an hour's drive away in the Denver area.

"There have been long discussions about whether this is an appropriate thing to be doing given the order to stay closer to home," Pitman said. "People should be staying close to their homes, and if there's no skiing nearby, then they should find something else to do."

Pitman is also concerned about the lack of space at these crowded trailheads.

"There are 20 to 30 cars in the parking lot and everyone is standing around talking to each other," he said. "The social distancing aspect is not there."

Pitman said they've had to change response protocols to comply with social distancing practices to keep their team safe from exposure to the virus. Group briefings at the command center have been nixed and turned into individual briefings conducted outside in the parking lot. Situations in the past where the entire search and rescue team would have been called upon have now been pared down to teams of four-to-eight crew members.
These measures can slow response time, Pitman said.

Pitman said the fewer calls the better right now. Every time search and rescue gets called out, during the pandemic or not, the responders risk injury. Crews being called out during the pandemic now face the added risk of exposure to the Coronavirus. Pitman said he hopes people are willing to self-regulate their conduct and be less risky in the outdoors.

"I'd ask people to pick a more conservative line right now," Pitman said. "There is no ski patrol out there — we're the ski patrol."
Pitman added that in easy-access areas, like Loveland pass, he's noticing a lot of novice backcountry users. On a recent weekend day, Pitman checked in with dozens of skiers and snowboards at the parking areas at Loveland Pass and discovered that only one was wearing an avalanche beacon.

"Maybe it's better that people do a little introspection and recognize that these are different times right now, perhaps they need to hang up the snowshoes and the skis and do what the governor said to do, which is stay close to home and don't get too close to other people," Pitman said.
Lake Tahoe – Fewer Search and Rescue Volunteers
In some places, COVID-19 has put a strain on the number of volunteers available to respond to search and rescue missions. That has been the case in El Dorado County, California, where the Sheriff's Office is tasked with responding to search and rescue missions from South Lake Tahoe, over the Sierra crest, and down to the gold rush towns surrounding Placerville, California.

Like most other search and rescue teams in the nation, El Dorado County relies on volunteers to carry out rescue missions. Some volunteer members have become unavailable for call out, El Dorado County Sheriff's Sgt. Anthony Prencipe said.

"The reality is that there are so many people that are in self-quarantine and that's affecting how many volunteers we have available," Prencipe said. "We have less volunteers that are able to respond and go out to calls."

Navigating the Line Between Access and Stay-at-Home Orders
When drafting its shelter-in-place orders, many states seem to recognize the benefit that the expanses of public lands bring to its residents.

For example, Colorado's shelter-in-place order, which took effect on March 26, 2020, mandates that Coloradans take extreme measures to avoid COVID-19 and stay at home with the exception of essential activity, such as buying food or seeking medical care. In a separate document, Colorado's governor clarified that outdoor activity would be permitted for the health and well being of Colorado residents, including "walking, hiking, nordic skiing, snowshoeing, biking or running" provided such activities adhered to social distance protocols.
Other states, like California and Washington, have signed similar shelter-in-place orders, permitting outdoor access close to home and with social distancing practices. Montana went a step further and permitted access to public lands provided that Montanans refrain from high-risk activities such as backcountry skiing "in a manner inconsistent with avalanche recommendations or in closed terrain."

Hikers, bikers, climbers, and sightseers seem to face a conundrum as they attempt to navigate the line between complying with government orders and maintaining their physical and mental health by visiting the fresh air and expanses of public land.

All three search and rescue leaders advised that people should still seek to get outside, but they ask that people dial back risky behaviors to reduce the chances of needing rescue in the backcountry.

"No one ever plans to get injured or lost. They don't expect it to happen, but then it does and we get called out," Prencipe said. "Maybe now is a good time to avoid backcountry places with a higher danger element for now, and maybe stick to the walking trails by your house."