Dig deeper into the map than ever before thanks to new and updated National Geographic Trails Illustrated maps in Gaia GPS. We've added the Sawtooth and Sun Valley National Geographic Trails Illustrated maps to the hundreds of NatGeo map titles available in the Gaia GPS catalog. Plus, get the latest updates on 16 Nat Geo maps in some of the most popular recreational areas across the US.
New Sawtooth and Sun Valley National Geographic Trails Illustrated Maps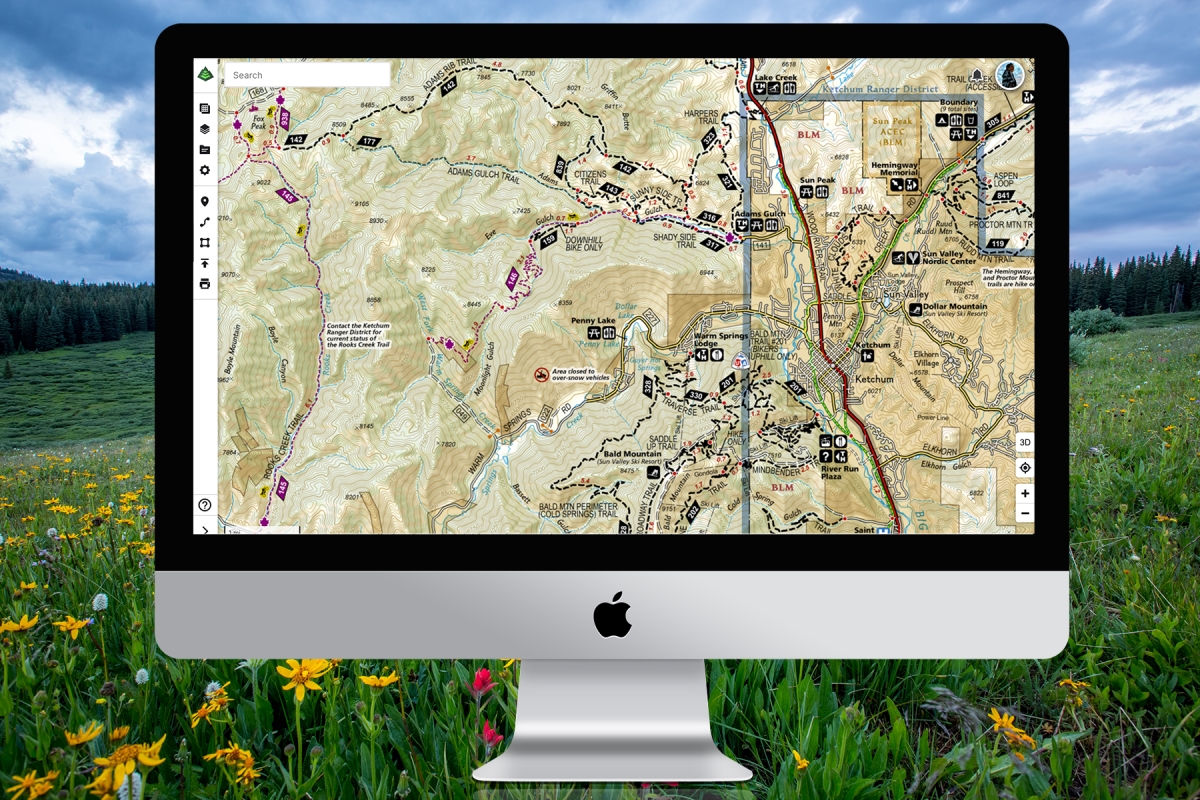 Gaia GPS now has two new National Geographic maps for Idaho's year-round playgrounds: the Sawtooth National Recreation Area and Sun Valley, Ketchum. If you're headed to the world-renowned ski area of Sun Valley and its adjacent town of Ketchum, you'll want to check these maps for the best recreational opportunities in every season. Get a Gaia GPS Premium Membership to download the National Geographic Trails Illustrated maps and take them with you offline, even in areas far away from cell service.

The Sawtooth National Recreation Area is home to three Wilderness Areas in central Idaho: the Sawtooth Wilderness, Cecil D. Andrus-White Clouds Wilderness, and Hemingway-Boulders Wilderness. With over 300 high-alpine lakes and 40 peaks towering over 10,000 feet in elevation, the Sawtooth National Recreation Area offers outdoor opportunities no matter what time of year you plan to visit. Hikers, trail runners, mountain bikers, backpackers, skiers, and snowmobilers will find hundreds of miles of trails to enjoy in the Sawtooth National Recreation Area Trails Illustrated map. Plus, get detailed info about campgrounds, trailheads, whitewater access points, interpretive trails, boat launches, nordic ski areas, and other points of interest in the area.

The Sun Valley, Ketchum area bumps up against the Sawtooth National Recreation Area, extending recreational opportunities all around the town of Ketchum, Idaho. This Nat Geo map shows the towns of Sun Valley and Ketchum and the surrounding Pioneer, Smoky, Solider, and Boulder mountain ranges. Find miles and miles of trails that are suitable for every activity, including hiking, mountain biking, snowmobiling, and OHV.
Newly Updated National Geographic Trails Illustrated Maps in Gaia GPS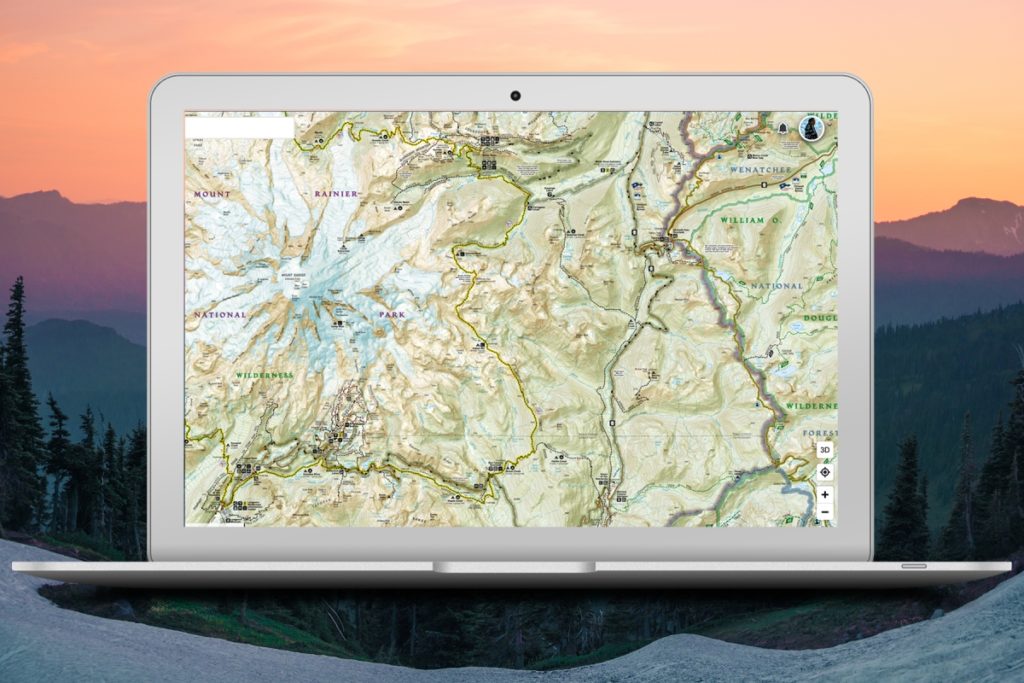 Sixteen National Geographic Trails Illustrated maps have recently been updated in Gaia GPS to show new trails, additional visitor amenities, distances between trail segments, and more. From Colorado to California, Washington to Wisconsin, check out these updated National Geographic maps in Gaia GPS:
Mount Rainier National Park: This map gives you all the information for a successful trip to Washington's Mount Rainer National Park. Get the most up-to-date information on the park's key destinations including Paradise, Longmire, White River, Mowich Lake, Ohanapecosh, Chinook Scenic Byway, Crystal Mountain, and Glacier View Wilderness.
Goat Rocks & Norse Peak Wilderness Area, Gifford-Pinchot & Okanogan-Wenatchee National Forests: Get updated details on this portion of the central Washington Cascade region. Outdoor enthusiasts of every stripe will appreciate the details of this updated map, including Rimrock and Bumping Lakes; Crystal Mountain Ski Area; Bumping and American Rivers; Tatoosh Wilderness Area; and Chinook and White Pass Scenic Byways.
The Wonderland Trail: Washington's premiere trail, the Wonderland Trail circumnavigates Mount Rainer. Get the latest information in this guide about the Wonderland Trail, including wilderness regulations and other important facts and tips to help you navigate this spectacular trail.
Joshua Tree National Park: Located in California's dry and windswept desert landscape, this Nat Geo map delivers up-to-date details to help you explore this fascinating landscape of rock formations and unique flora.
Bandelier National Monument: Get the latest details on this New Mexico recreational area, including information about archeological, geological, and historical sites. The map covers the entire national monument, plus Bandelier and Dome Wilderness areas, White Rock Canyon, and parts of Santa Fe National Forest and Jemez Mountain Trail Byway.
Leadville, Fairplay: This updated map shows miles of trails around the Leadville, Colorado area, including portions of the Colorado and Continental Divide Trails. View clearly marked mountain biking, cross country skiing, snowmobiling, and off-roading trails with this classic National Geographic map.
Hahns Peak, Steamboat Lake: Use this map to explore the Routt National Forest in the northern regions of Colorado. This map includes trails and amenities details for Hahns Peak Lake; Steamboat Lake and Pearl Lake State Parks, Bear Creek Lakes, and Mount Zirkel Wilderness.
Clark, Buffalo Pass: This map covers a portion of the Continental Divide through Routt National Forest and surrounding areas in the northern region of Colorado. Get updated trail information for Mount Zirkel Wilderness Area, Christina, Odd Fellows and Irvine State Wildlife Areas, Spring Creek Mountain Park, and Summit Lake.
Steamboat Springs, Rabbit Ears Pass: Get summer and winter recreational information in this up-to-date map for the Steamboat Springs, Colorado area. Find clearly marked trails and other points of interest around the Stagecoach and Fish Creek Reservoirs; Steamboat Ski Area; Yampa River; Sarvis Creek Wilderness; the towns of Steamboat Springs and Oak Creek; Muddy Pass; and a portion of the Continental Divide Trail.
Cloud Peak Wilderness: View this updated map to explore nearly 200,000 acres in the Cloud Peak Wilderness in north-central Wyoming. The map covers the entire wilderness area and includes key areas of interest, such as Highland and Coffeen Parks, Meadowlark Lake, Upper and Low Paint Rock Lakes, Kearny Lake Reservoir, and Cloud Peak Skyway.
North Fork: Glacier National Park: Anyone visiting Glacier National Park will want to consult this updated National Geographic map that includes key areas of interest such as Bowman Lake, Lake McDonald Valley, Goat Haunt and Avalanche Creek. The map includes sections of the Pacific Northwest Trail and the Continental Divide Trail as well as recommended biking trails in this northern region of Montana.
Many Glacier: Glacier National Park: This up-to-date map details hundreds of miles of trails in the national park and includes recreation amenities, including campgrounds, mountain bike trails, waterfalls, picnic areas, and horse rental locations in the Many Glacier area of Glacier National Park in Montana.
Two Medicine: Glacier National Park: This map covers the heart of the Glacier National Park in Montana, including John Stevens Canyon, St. Mary's Lake, Lake McDonald, and the historic Going-to-the-Sun road. The newly updated map shows clearly marked trails, bridges and shuttle stops for public transportation within the park.
Glacier, Waterton Lakes National Parks: This map covers a large area of northern Montana in and around Glacier National Park. Get detailed topographic information for key areas including Many Glacier, Great Bear Wilderness, Flathead National Forest, Hungry Horse Reservoir, Lake McDonald, Flathead River, St. Mary Lake, Akamina-Kishinena Provincial Park, and the Waterton Lakes. This map features more than 800 miles of trail in the parks and surrounding areas.
Voyageurs National Park: Explore interconnected waterways along the border of Minnesota and Canada with the National Geographic Voyageurs National Park map. Travel by kayak, canoe, houseboat, or motorboat in the summer Use snowmobiles, snowshoes, and skis to explore in winter. This National Geographic Trails Illustrated map is updated and ready to help you find your way through this unique wilderness.
Apostle Isles National Lakeshore: Find boat and kayak launch areas and marinas in the northern territories of Wisconsin. This newly updated map covers the 21 islands and 12 miles of Lake Superior shoreline that comprise the national lakeshore with unparalleled detail. Also covered by the map are Red Cliffs Indian Reservation, Madeline Island, the northeastern corner of Chequamegon-Nicolet National Forest and the Bayfield Peninsula.
About National Geographic Trails Illustrated Maps
You can access hundreds of National Geographic Trails Illustrated maps with a Gaia GPS Premium Membership. Trusted and popular maps for America's favorite outdoor destinations, Nat Geo's Trails Illustrated maps are continually updated for accuracy. Each map is crafted with input from local land managers and subjected to a rigorous review and enhancement process. Look for Nat Geo's signature features and details, including clearly marked trails, recreational points of interest, and navigational aids to help you find your way in the backcountry.
How to Access National Geographic Maps In Gaia GPS
With a Premium Membership, you can access all the National Geographic Trails Illustrated maps in Gaia GPS. Simply tap the layer button, and select United States topographic maps. Scroll down to add the National Geographic Trails Illustrated maps. Tap the "Add Maps" button to add it to your active map layers. Downloads maps to view and navigate with them in areas without cell service.