As he drove home from a rock climbing adventure earlier this year, backcountry guide and SAR volunteer Jonathan Preuss received an emergency call for a hiker lost on Devil's Bedstead East. "I … saw the search come in, pulled up my Gaia app, made sure I had that map saved, and turned around and went back to the trailhead."
A helicopter flew by shortly after the call and spotted the missing hiker, but by that point, Preuss had already started up the trail. The ability to quickly access digital maps from a mobile device allows Search and Rescue volunteers like Preuss to respond quickly and more accurately than ever before.
All in a Day
Preuss works as a ski, alpine, and rock-climbing guide for Sun Valley Trekking and Sawtooth Mountain Guides in Idaho's Sawtooth National Forest. "It's not the typical Monday through Friday job," said Preuss, in which a day of work can mean 4 hours of setting up ropes on a rock wall, or guiding a 10 to 15 hour trip over 12,662-foot Mount Borah, the "Everest of Idaho." Facing everything from altitude sickness to shifting weather patterns, an Idaho mountain guide's ability to change plans quickly can make all the difference.
"With ski guiding, you could go out there and have a plan to go to a certain run or two," Preuss said, but when conditions change, "You gotta make a change on the go." For this reason, Preuss keeps multiple overlays and maps loaded on Gaia for the area he's touring that day.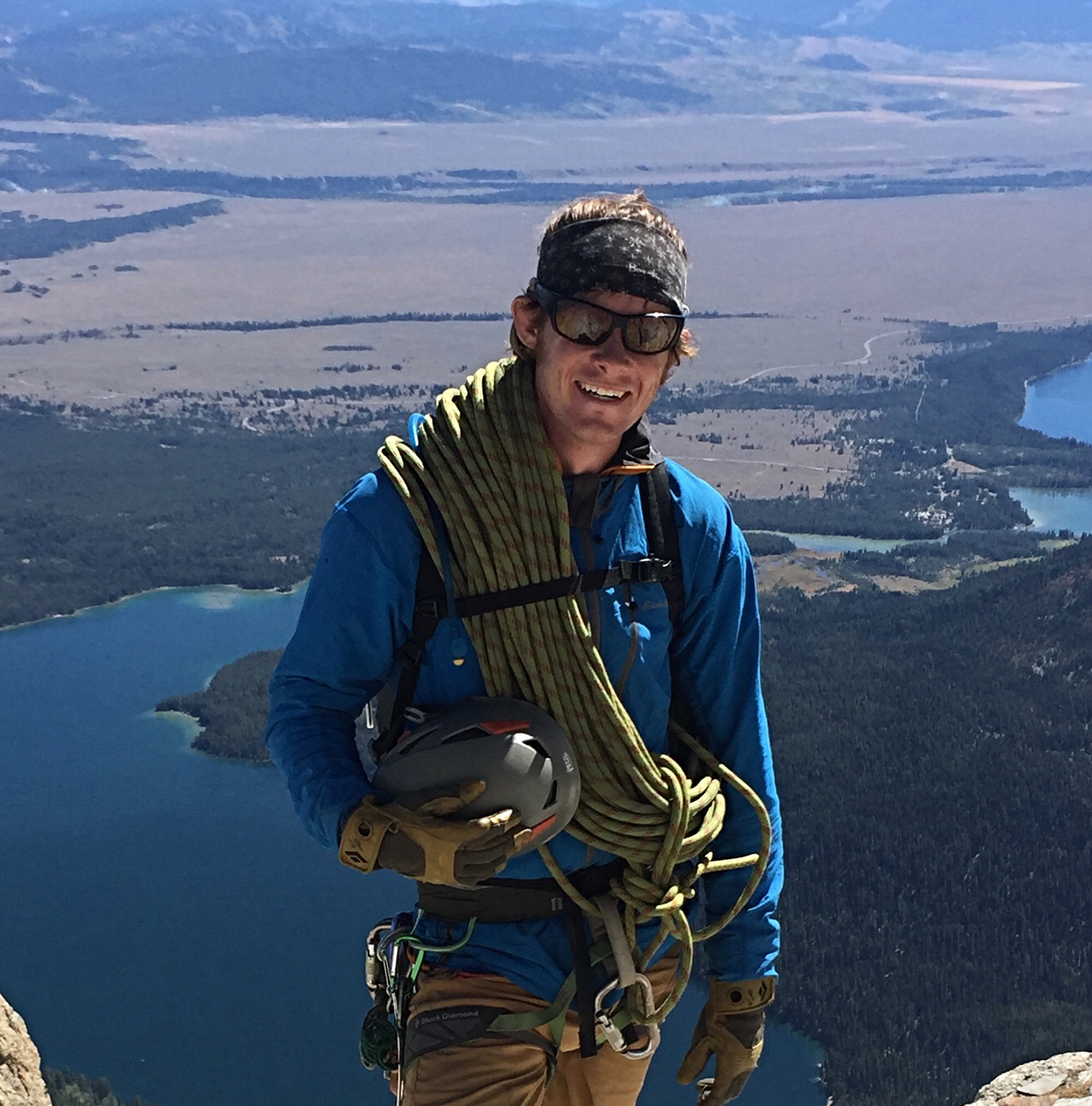 Preuss approaching the CMC face of Mt. Moran in Grand Teton National Park, Wyoming.
Technology's New Role in Risk Management
For those working in the backcountry without access to phone service, solid preparation allows for flexible decision making. "Being a guide also means a lot of research… we have to have a tour plan for everything," said Preuss, who downloads and studies maps on Gaia GPS to prepare for his day. Ski guiding, he uses the satellite imagery to get an overhead view of the terrain above tree line. Hiking and trail running, he maps his routes ahead of time. "I'm constantly selling Gaia to clients because they just don't realize it exists. They think you have to go out and buy a GPS," Preuss said, referring to a recent shift in navigation preferences in the outdoor industry.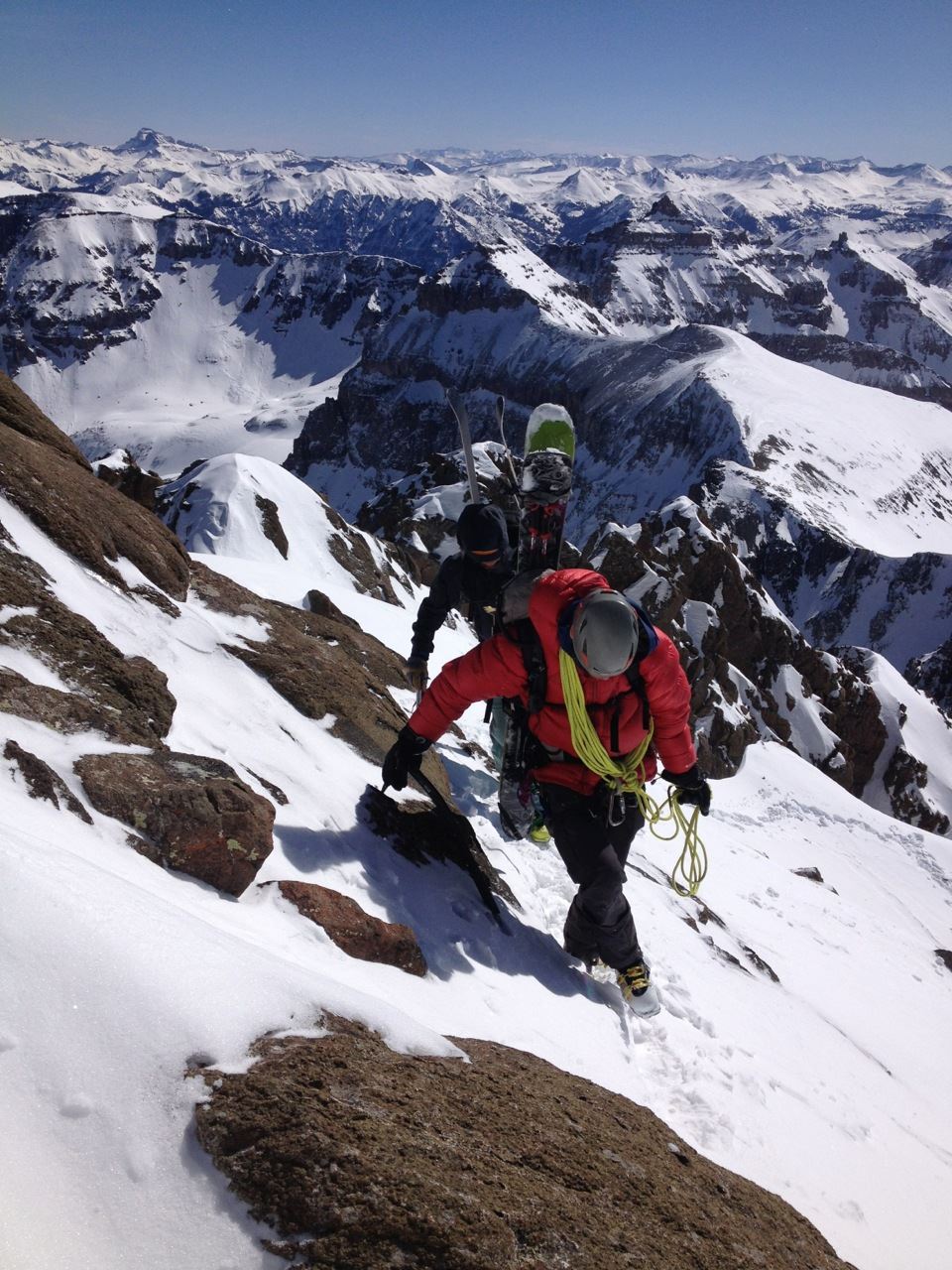 Preuss short-roping a client during an American Mountain Guide Association Ski Guide Course going up Mount Sneffels (14,157′) in the San Juan mountain range of Colorado.
"It's always good to have a hard copy of a map anyways in case your phone doesn't work or runs out of battery, but it kind of takes a short cut to be able to load it in your phone and just go with it," Preuss said, adding that new technology can help with risk assessment and avalanche prediction, "There's some people out there, they're just using very old knowledge and it is very important for the ski industry because the avalanche studies every year change."
Avalanches can occur on ski slopes from 30 to 55 degrees. Preuss explains, "38 degrees is the most triggered slope – which is black diamond terrain, so it's the terrain everyone wants to go ski." For this, Gaia offers the Caltopo slope angle overlay – a color-coded guide for the angle of a slope – so skiers know where they need to be more cautious.
After three years of working with the Idaho SAR team, Preuss has personally witnessed the life-and-death repercussions of backcountry mistakes. Last year, Preuss participated in a month-long SAR for another hiker who went missing on Devil's Bedstead East. "He went up this ridge line that's not the usual way to get up. It has some fifth class climbing and he was by himself," said Preuss. With his SAR team, Preuss later located the body and sent GPS coordinates to the sheriff's office.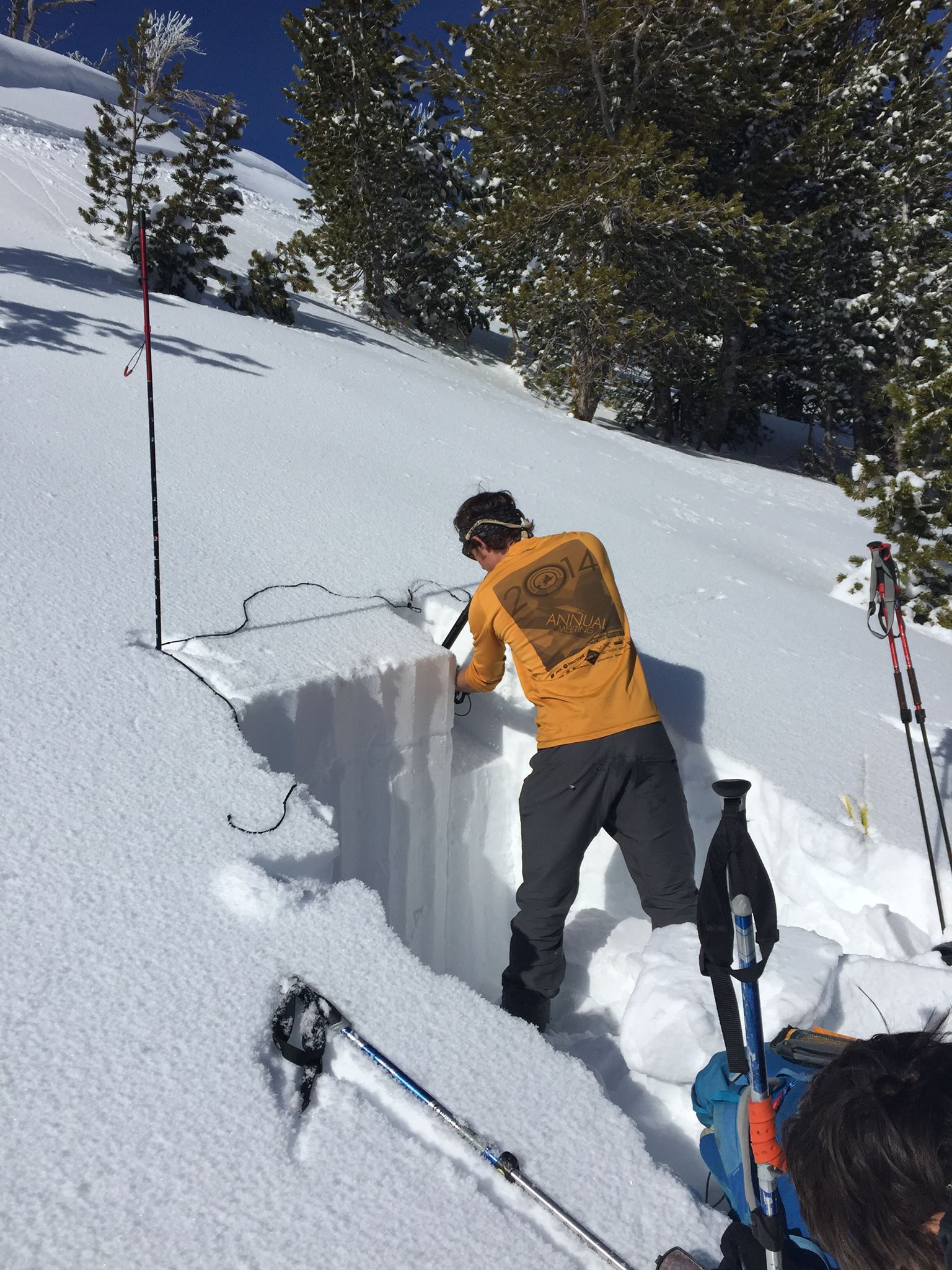 Preuss digging a snow cave and reading the snowpack for avalanche hazard in the Smoky Mountains of the Sawtooth National Forest, Idaho.
The Takeaway: Preparation
Whether he's searching for a lost hiker, guiding clients, or backcountry skiing with friends, Preuss stays prepared with the right equipment, maps, and planning. "You never leave without an avalanche beacon, your shovel to dig someone out, and a probe to find them," Preuss explains, adding "And if I didn't have my Gaia app … I would feel naked. It's that important to me."
Learn more about Jonathan Preuss and support his American Mountain Guide Association Certification through his website, http://www.jpadventures.com/