The best part about car camping is you can bring almost anything with you. You can sleep in luxury on a memory foam mattress, rinse off with a portable shower, and bring as many games with you as you like. Perhaps most importantly, you don't have to sacrifice culinary quality to chow under the stars. Bring a heavy cast iron dutch oven to bake lasagna, a cooler to keep your drinks icy cold, and even a grill to make kebabs. Car camping meals have almost no limit. To spark your creativity, eight outdoor enthusiasts shared their favorite easy car camping recipes.
Scott & Jenny Jurek: Japanese Noodles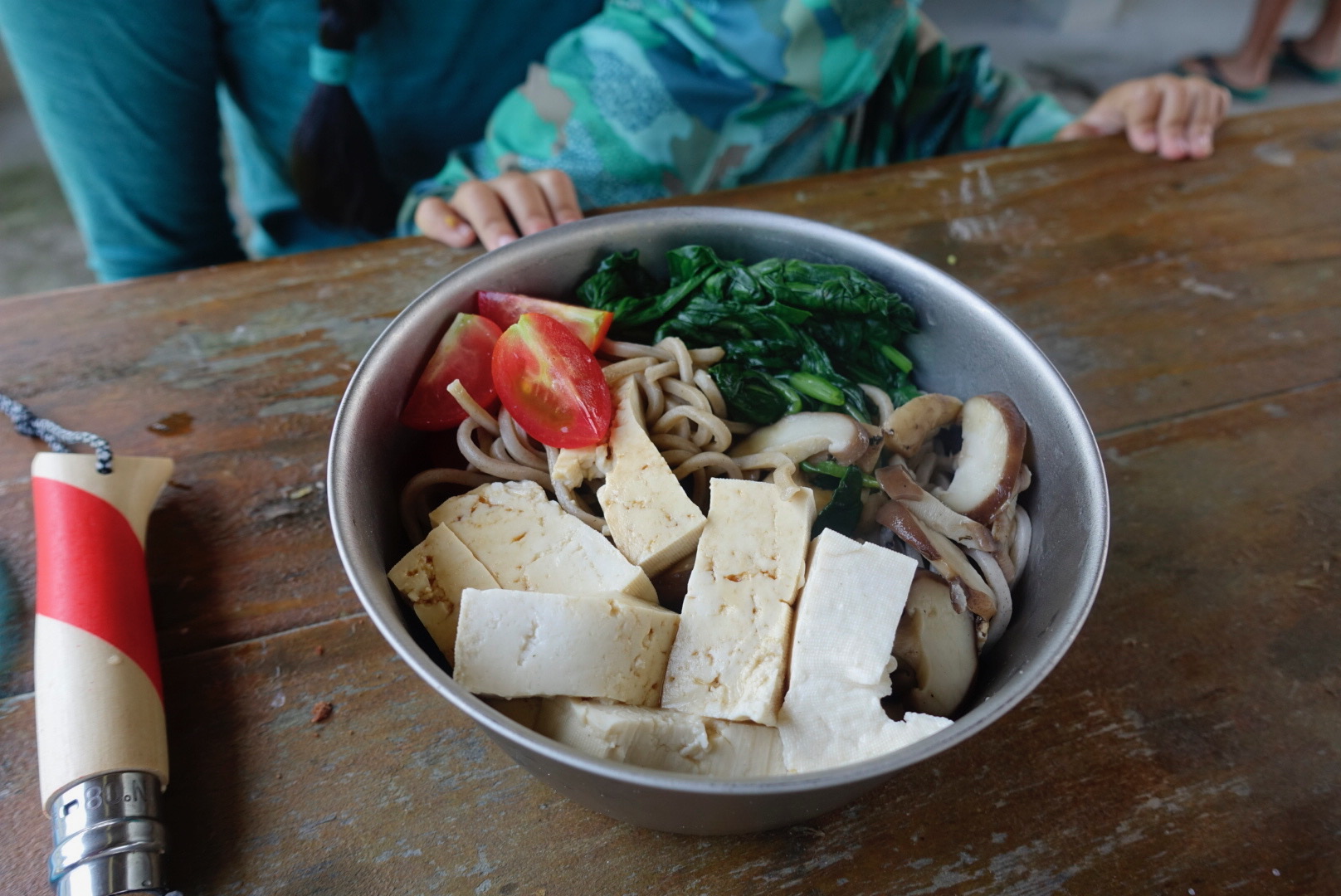 Scott and Jenny Jurek may be best known for setting the thru-hike record on the Appalachian Trail. But they accomplished an arguably more impressive feat last year when they bike packed around Japan for a month with their children, ages three and one at the time. Carrying all of their gear, the Jureks covered 600 miles and camped in a new location each night. "The kids had a blast," Jenny says. "They didn't want to leave!"

This family-friendly noodle recipe helped power them through their journey.
Recipe (feeds two to four)
4 bundles of dry Japanese buckwheat noodles (360g)
1 14oz package of extra firm organic tofu, cubed
8 medium sized mushrooms
1 cup cherry tomatoes, quartered
3 cups fresh spinach, washed and stemmed
3 tablespoons sesame oil
Soy sauce, drizzle to taste
Furikake (seaweed seasoned mix you can find at Trader Joe's, Whole Foods, any natural grocery store), sprinkle to taste
Instructions
Wash and cut the mushrooms into 1/4-inch slices.
In a large pot, add mushrooms and noodles to 3 quarts of boiling water, cook about 5 minutes, stirring occasionally.
Add spinach to the pot for the final minute.
Drain well. Gently stir in sesame oil, being careful not to break the noodles.
Add tofu and tomatoes, drizzle soy sauce to your liking, and garnish with furikake.
If you like a little spice, sprinkle with any type of powdered chili. In Japan, the Jureks used Ichimi Togarashi. Enjoy!
You can find more recipes from Scott in his New York Times best seller Eat and Run.
Kelly Newlon: Roasted Sweet Potato with Chorizo and Greens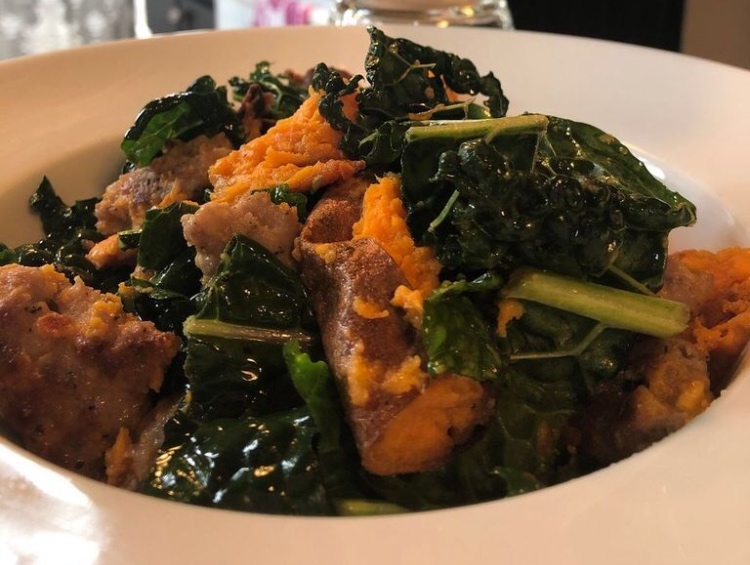 Kelly Newlon serves as the head chef and mastermind behind Real Athlete Diets, a performance-oriented catering service for athletes. A graduate of The Culinary Institute of America/Hyde Park, Newlon started working in professional kitchens at age 15. Newlon and her husband Morgan live just outside of Boulder, Colorado, where they spend much of their free time recreating and camping in the Rocky Mountains.

"We really love this one as far as camping and car camping are concerned," Newlon says. "It is so easy to bake a sweet potato at home, bring it along and put the rest together when ready after a long day out in the woods. Three ingredients, SUPER easy, and really tasty. Any leftovers can always be rolled into a burrito for breakfast the next morning."

Thanks to the seasoning and fat from the chorizo, no extra oil or spices are needed for the entire recipe.
Recipe (feeds two)
1 lb. ground chorizo or (favorite vegan alternative + 1 tbs. olive oil)
1 large sweet potato (keep that skin on!)
2 cups chopped raw kale
Instructions
Before you leave home, preheat oven to 375°F.
Roast sweet potato, skin on, until very soft and fork tender. (60 to 75 minutes.)
Store sweet potato in sealed container, bag, or wrapping.
Cook chorizo in a large sauté pan over camp stove until done. When chorizo is done, turn off the heat. Add the sweet potato and gently break up with a wooden spoon or spatula. Once the sweet potato has been combined, add all of the kale at once and fold together. The heat from the chorizo and sweet potato will gently wilt the kale.
Thomas Woodson: Veggie Wraps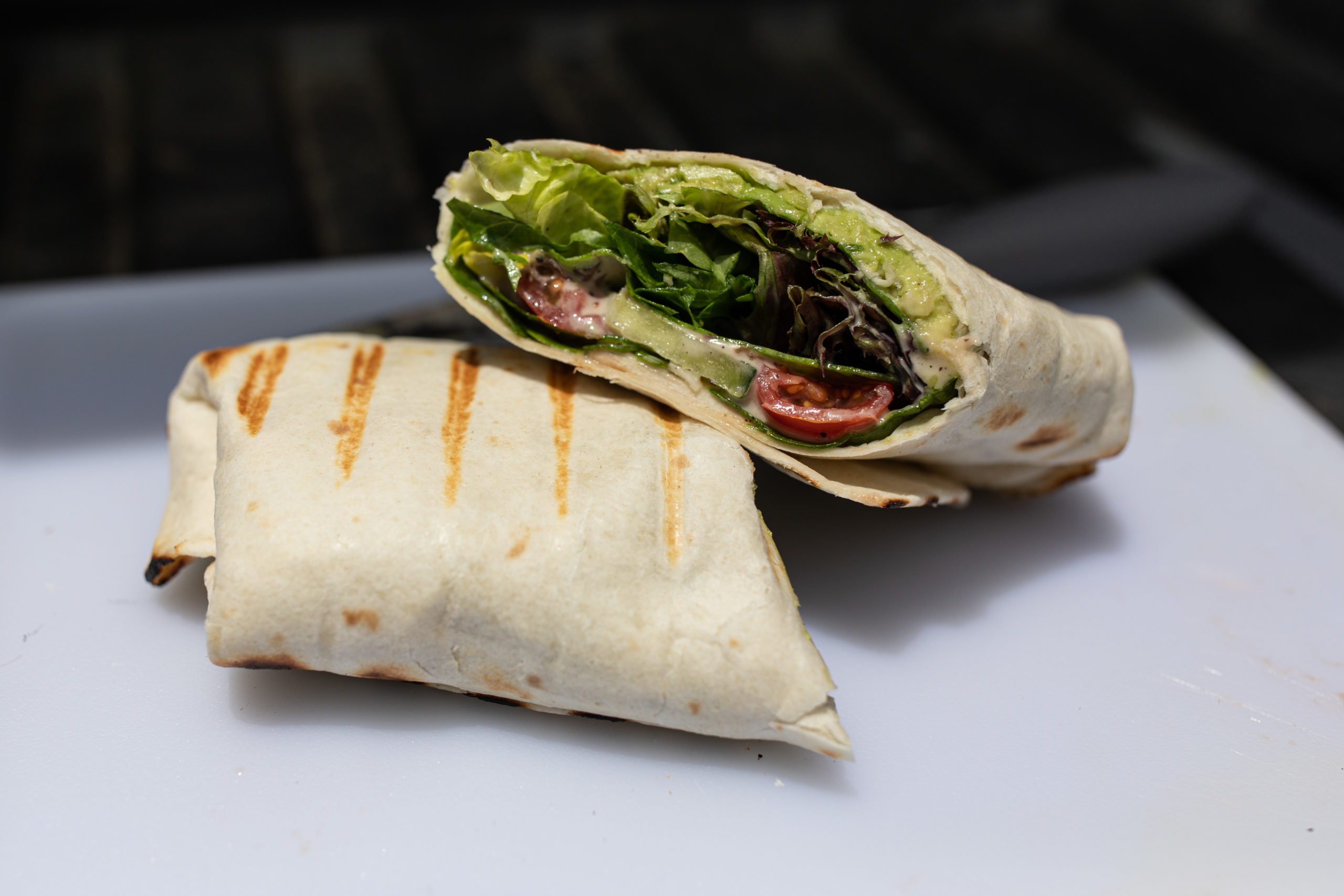 Outdoor photographer, film maker, and avid outdoorsman Thomas Woodson works a Coleman stove as deftly as he navigates rapids on the Colorado River while holding a RED video camera. Woodson, who has built out, lived in, and sold, three Sprinter vans, has spent much of his adult life cooking in a car.

While he limits his car camping to photoshoots and adventures now, he thoroughly understands the need for delicious, easy to prepare and clean camping meals.

"I like this meal because tortillas are great for no-dish meals," Woodson says. "Avocados and tomatoes don't take up much cooler space, and they leave little trash to pack out."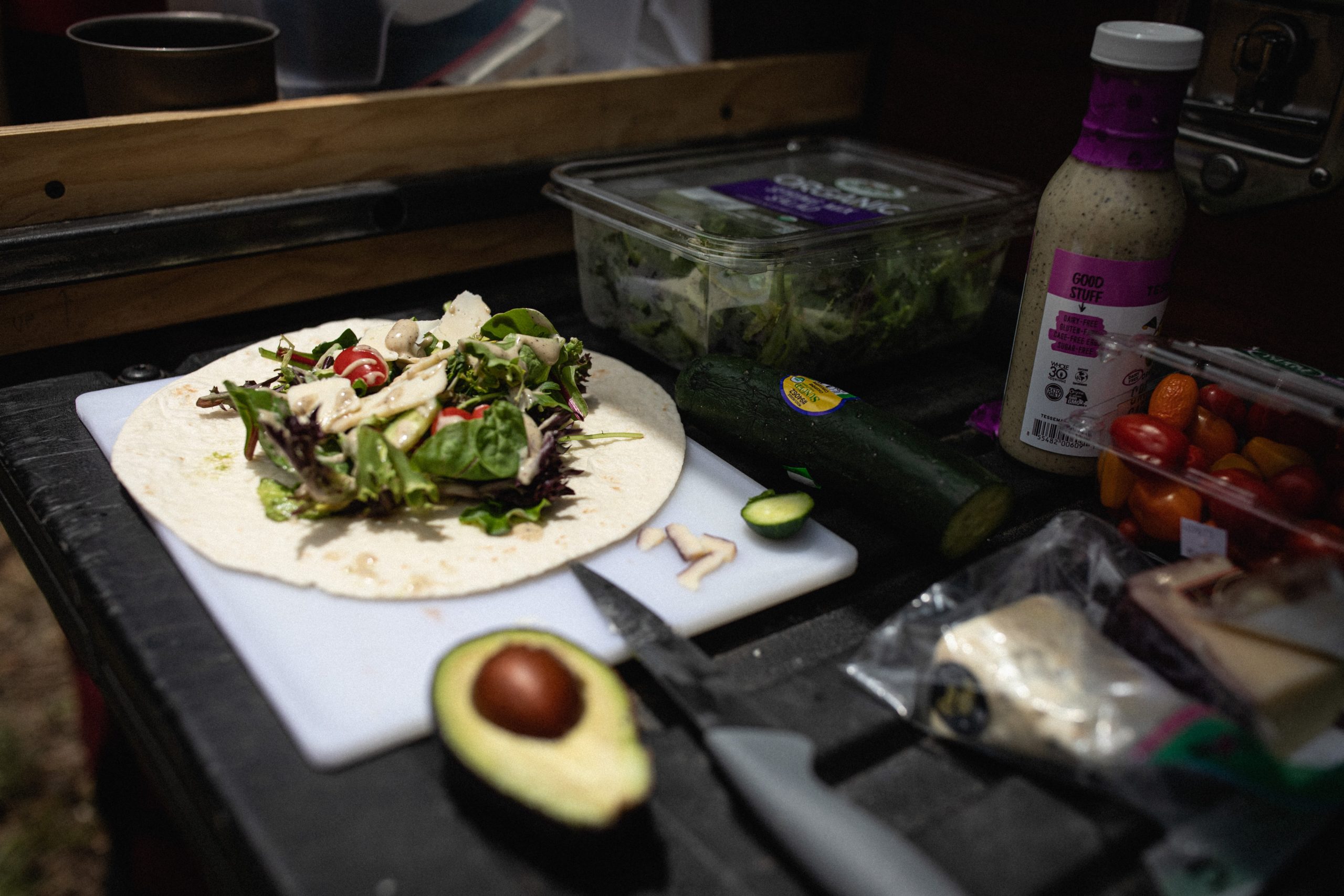 Recipe (feeds one)
Flour tortilla
Avocado
Spring Mix
Cucumber
Cherry tomato
Asiago cheese
Cesar dressing
Instructions
Place ingredients on tortilla.
Fold tortilla into a burrito.
Grill!
Rick Stowe: Steak Kebobs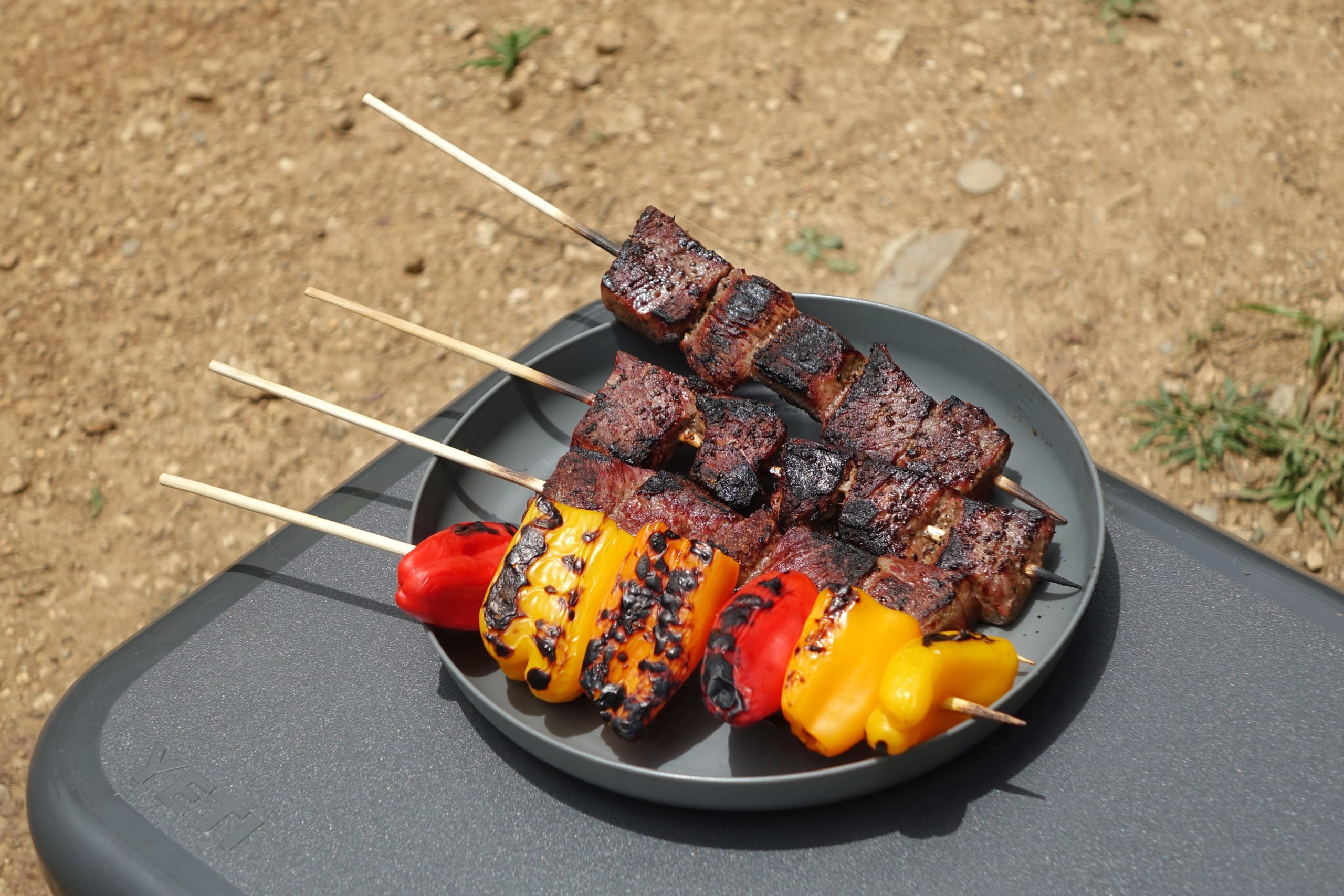 Rick Stowe, web editor Outdoor X4 Magazine, brings the same culinary attitude towards cooking outdoors as he does to cooking at home.

"We try to focus on simple dishes made with local meat and vegetables as much as possible," Stowe says. "With some seasonings, good ingredients, and a nice bed of coals to impart some flavor you almost can't go wrong."

This philosophy explains why he loves making Steak Kebobs while on an adventure.

"Probably one of the best in-camp steak dishes we've made was on a backpacking trip on the Cumberland Trail," Stowe says. "We packed in vacuum-sealed steaks, Yukon Gold potatoes, and vegetables and cooked them on a ridge surrounded by huge rock formations. It was such a great meal after hiking up to the summit that day. Freeze-dried options may be lighter, but on one-or-two-night trips it's tough to beat something like that."

The best part? The clean up is almost nonexistent.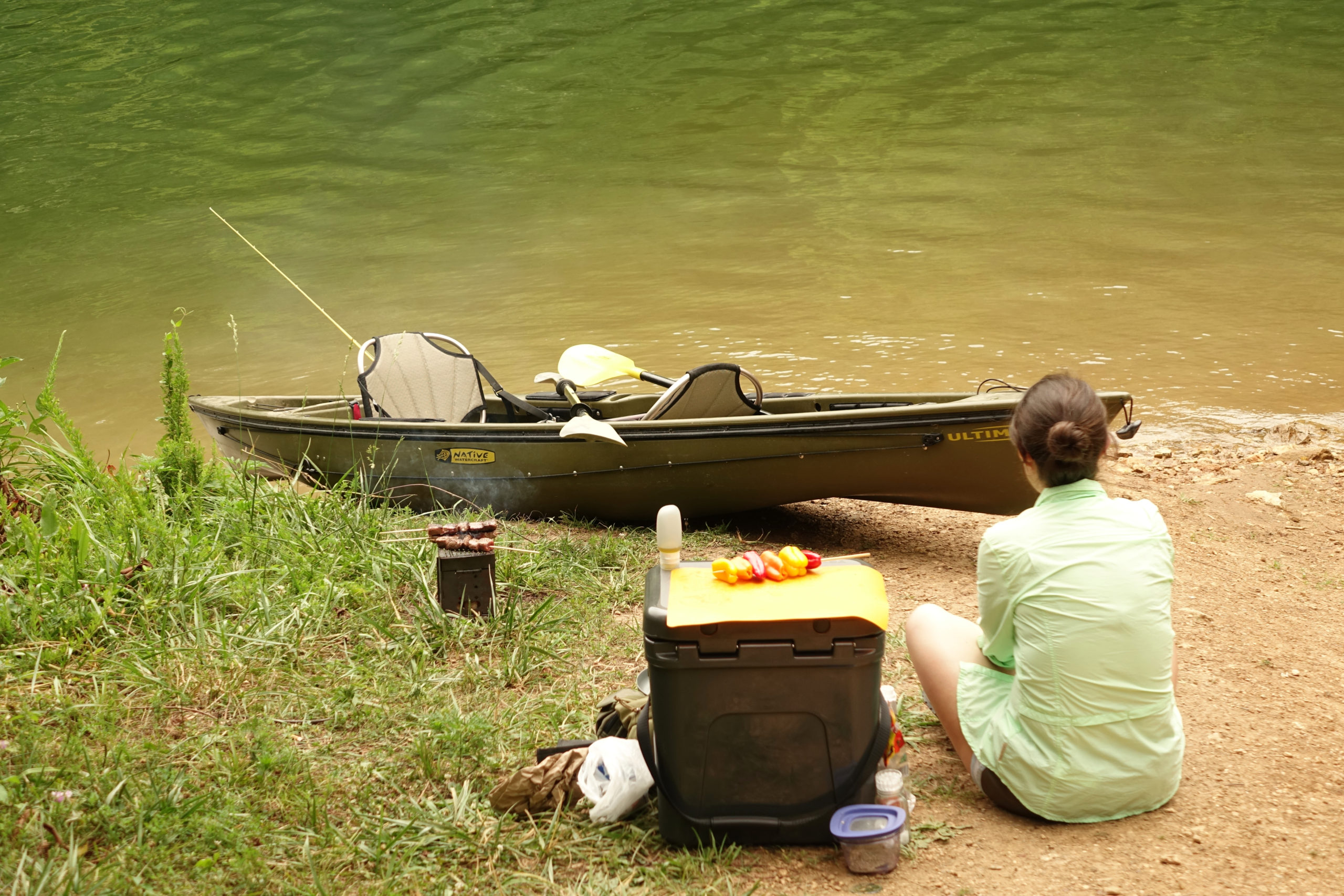 Recipe (feeds two)
two servings of steak
two servings of kabob-friendly vegetables. Rick used small peppers, zucchini, squash, onions, and mushrooms make good options.
1 Tbsp course ground salt
1 Tbsp black pepper
Olive oil
Instructions
Establish a good cooking fire. Rick usually uses his Firebox stove for adventurous grilling. If space allows, he prefers to combine 12 to 18 charcoal briquets with a small wood fire to get a consistently high temperature.
While the charcoal warms up, start the food prep: cut the steak into one-inch cubes and feed them onto the kabob sticks. Remember to leave room on the end to maneuver the sticks.
Season the steak with the salt. Alternatively, you can add your favorite steak season as well.
Once the grilling surface has heated up, place the kabobs over the highest heat. Try not to move them for a minute or two so that nice crust can form and trap the juices inside.
While the steak kabobs are cooking, you can prepare the peppers (or the vegetables of your choice) for grilling. For the peppers, cut off the caps and remove the seeds.
Thread the pepper slices onto their own kabob sicks. Lightly coat the peppers in olive oil.
Cook time for the steak varies, but Rick aims to only turn them once at around 3 minutes.
Once the steak is mostly cooked, move them to the side of the cooking surface and place the vegetable kabobs over the highest heat.
Depending on the temperature of your fire, the vegetables may only take a few minutes to grill to preference.
Once everything is ready, let it rest a moment, and then enjoy!
Nicole "Nik" Snell: Curried Quinoa Recipe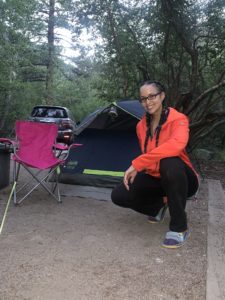 Self-defense instructor and international speaker Nicole "Nik" Snell serves as the CEO of Girls Fight Back and a hike leader for Black Girls Trekkin'.

"For car camping, I usually pack and eat the simplest of items," Snell says. "Since I'm vegan I usually bring my meals with me and reheat them over the fire or pack an ice chest and have something cold."

Her Curried Quinoa recipe can be made ahead of time for a quick, easy, and nutritious meal away from home. You can also easily whip this dish up over a camp stove.

"The ingredients aren't precise," Snell says. "I like to have flexibility with the taste and what I have on hand!"
Recipe (feeds one to two)
1 cup raw quinoa
2 tbsp (maybe more) Vegannaise
2 stalks celery
1/8 cup chopped red onions (or more to taste)
1 can of beans (whatever you like best!)
1-2tsp Cumin
1-2tsp Turmeric
1-2tsp Curry Powder
Salt – to taste
1tbsp lemon juice
1/4 cup raisins
Instructions
Rinse quinoa then put in a pot with 2 cups water and bring to boil. Once boiling, bring to low heat, cover, and simmer for 12 minutes or until all water is absorbed. Remove from heat and allow to cool completely.
Chop celery into small pieces.
Chop onions into small pieces.
Rinse beans.
Mix in Vegannaise, celery, onion, beans, and spices. Mix well and coat thoroughly. If you need more of any ingredient, feel free to add to your own taste!
Add in raisins and stir.
Erin Shaw: Tin Foil Packet Dinner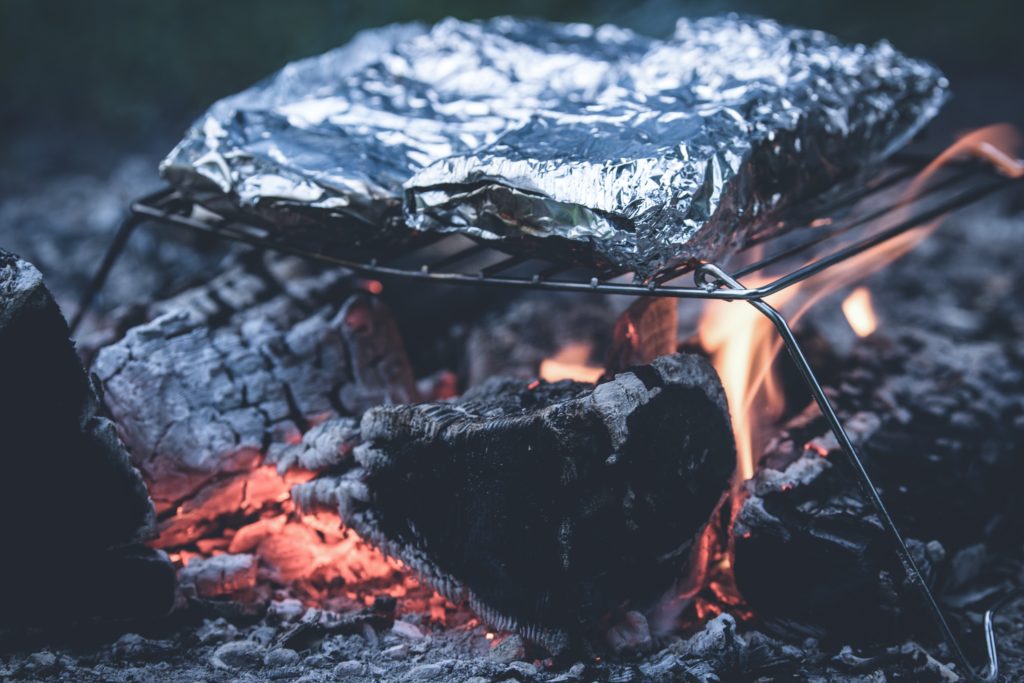 New mom and ultra runner Erin Shaw spends nearly every weekend in the summer car camping with her toddler, Ethan, and husband, Matt. Her car camping meal go-to: tin foil packet dinners.
"The best part about these is that you can really do whatever you want," Shaw says.
Shaw's basic template includes potatoes (she likes small red rose or Yukon gold since they don't require peeling, or sweet potato), onion, and two additional vegetables. She adds a protein, usually chicken or sausage, but you could substitute tofu. And olive oil or butter and fresh or dried herbs.
"Don't forget the salt and pepper," Shaw says. "And get creative!"
Recipe (feeds one)
Red rose or Yukon gold potatoes
Green beans
1/4 yellow onion cut into strips
1 zucchini
1/4 red bell pepper
1 small chicken breast chopped
oil
salt and pepper
garlic powder
fresh rosemary
red pepper flakes
Instructions
Get your fire going. You want all the glowing coals at the bottom of the fire.
Toss all the ingredients in olive oil, salt, pepper, red pepper flakes, and garlic powder (be liberal with the salt because potatoes need it. Use red pepper flakes to your heat preference and about 1/2 tsp. of garlic powder).
Add a sprig of rosemary.
Wrap the foil packet by folding in the sides like an envelope. Add a second layer to get a tight leak-proof packet.
Arrange the hot coals so there is a layer at the edge of the fire.
Place the foil packet on the coals at the edge of the fire. You will want to keep an eye on them and listen. If they aren't getting hot, you can move them closer, and If they seem to be getting too hot, you can move them further away. Generally, they take about 15-30 min to cook.
Pull your packet off the fire. Cut or peel open and enjoy!
Eliza Earle: Egg Tacos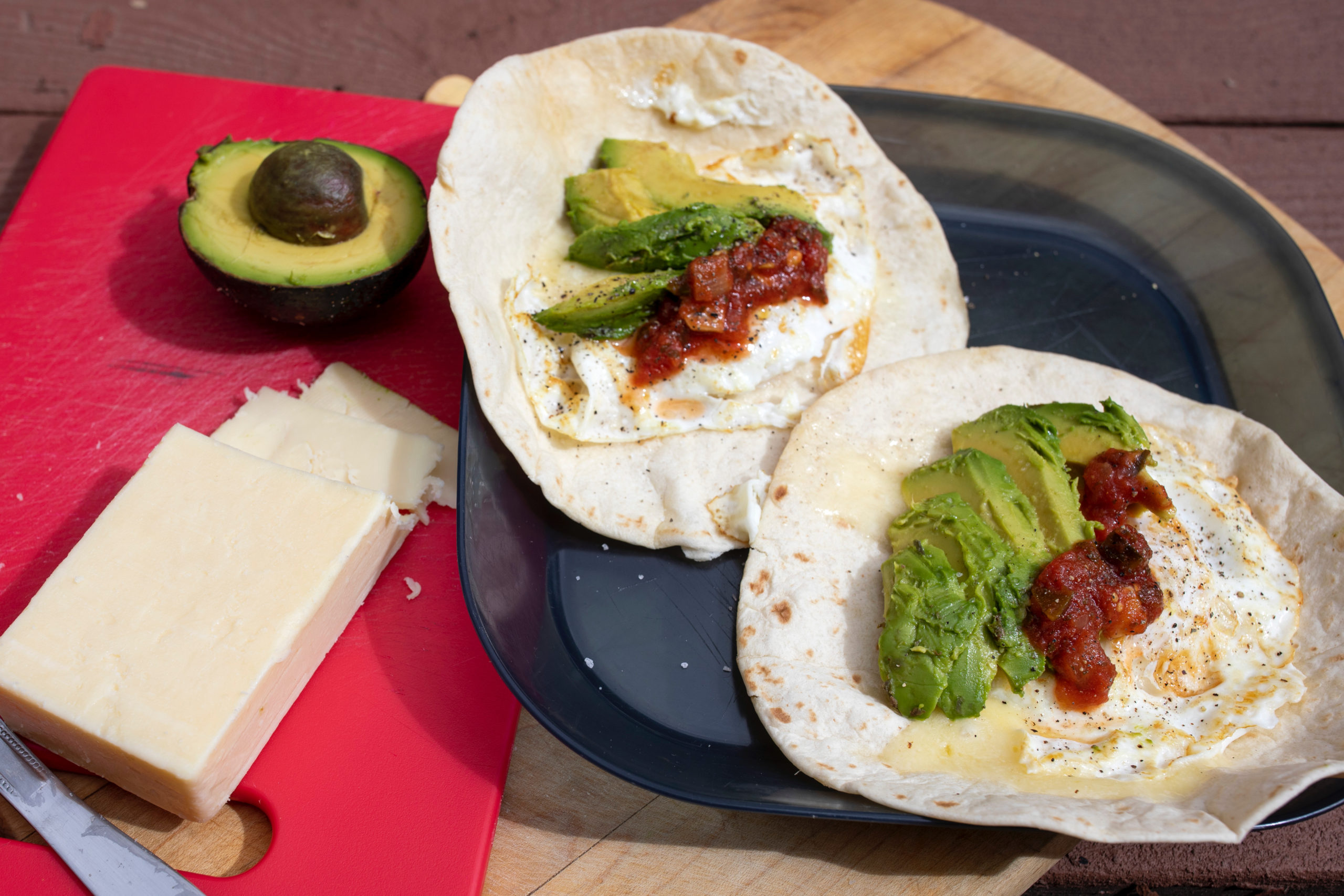 Photographer, filmmaker and all-around adventure athlete Eliza Earle reminds us that a proper car camping trip would be remiss without a hearty breakfast dish. Even if you don't need the prospect of a warm breakfast to lure you from your warm sleeping bag in the morning, breakfast for dinner rarely disappoints.
But a good car camping recipe isn't just delicious, it's also easy to make and easy to clean up. Earle's ingenious egg tacos hit the trifecta.
"These egg tacos are pretty simple," Earle says. "But it's the way that they're made that really makes them a breakfast success. It's mostly just a fun and easy way to cook everything at the same time, plus cooking the egg and cheese into the tortilla just creates a perfect taco without needing to assemble everything after cooking."
Recipe (serves two)
2 eggs
2 tortillas
Cheese (as much as you like)
1 avocado
Salsa
Salt and Pepper
Butter or oil
Whatever else you want to add!
Instructions
Heat a skillet with butter or oil and crack eggs as if you're cooking a fried egg.
Place cheese and tortillas on top of the eggs as they fry in the pan (it should look upside down). As the egg fries, the cheese and tortilla cook with it. When ready, flip egg, cheese, and tortilla altogether. Now the egg will cook through the tortilla and the cheese will continue to melt.
When finished, transfer to a plate ad add avocado, salsa, salt and pepper.
Andrew Skurka: Beans and Rice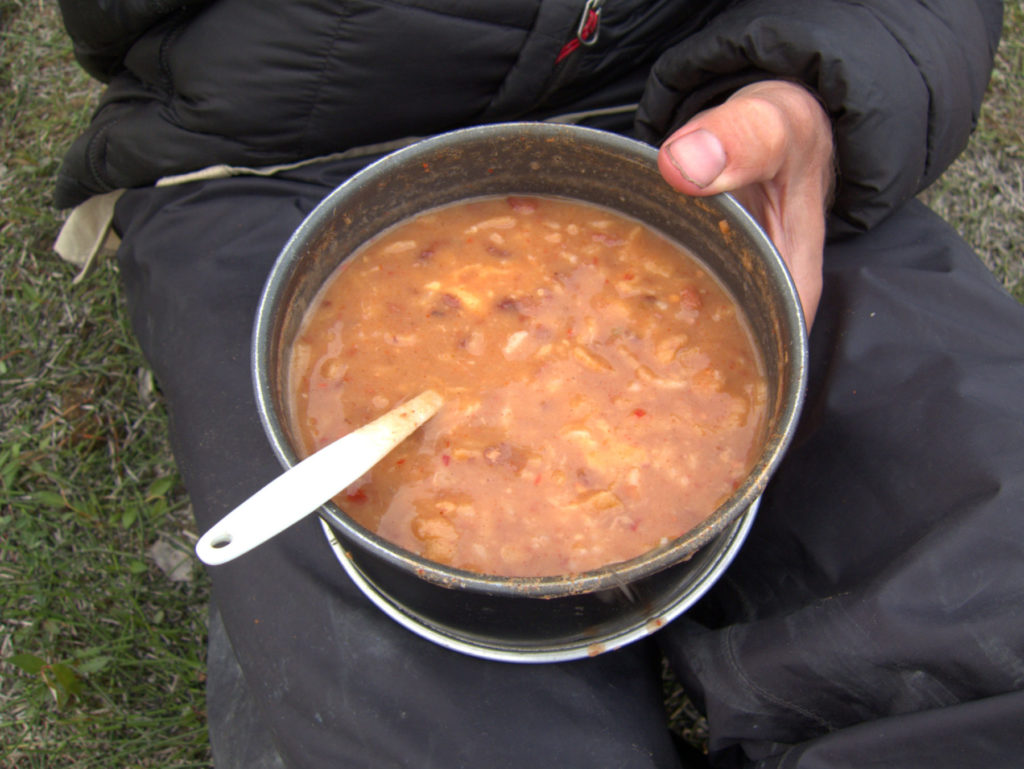 Car camping meals don't have to be complicated. Mountain guide and adventure athlete Andrew Skurka's backcountry Beans and Rice proves so easy and delicious that it's worth bringing to the front country.
"There are memes made about this meal," trail runner and long-distance backpacker Eli Zabielski says. "It's stupid good."
The secret to this humble pantry staple: Fritos. Skurka can't remember exactly how or when this stroke of crunchy, salty genius hit. But he's made Frito-filled Rice and Beans on every single one of his 75 guided backpacking trips over the past decade, plus dozens of personal trips.
"I've had this meal well over one-hundred times, probably closer to two-hundred," Skurka says. "And it's still one of my favorites. I always wish that I'd packed a slightly bigger portion."
Recipe (feeds one)
2oz instant beans (whole or refried)
2.5oz instant rice
1oz extra sharp cheddar cheese
1oz Fritos
.2oz Taco seasoning
salt, pepper, and red pepper flakes to taste
Instructions
Add at least 12oz of water to stove pot.
Pour in beans, rice, taco seasoning, and any other spices at any time.
Cook, ideally to a simmer, for about 60 seconds. Stir to avoid boiling over.
Cut cheese into dice-sized pieces and add to meal.
Add Fritos just before consumption.
Skurka deliberately crafted this recipe to be soupy for easy clean-up. If you have access to running water and want to make a more at-home style version, only add 10 oz of water.